By Andru McCracken
---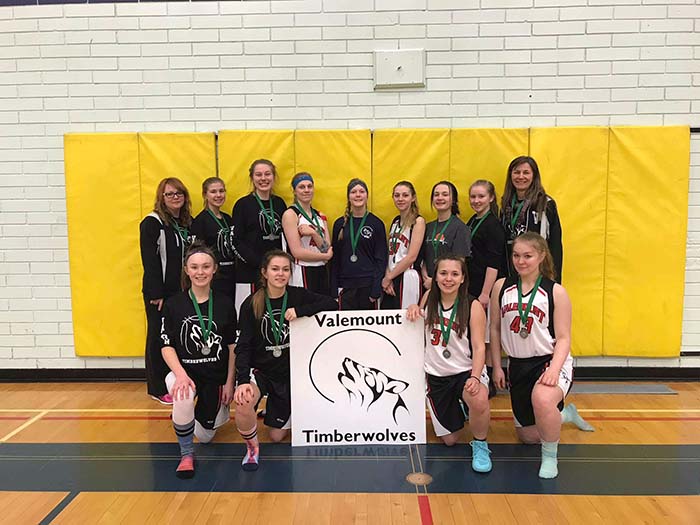 A basketball team with provincial dreams had one main hurdle to overcome: improve team bonding. That's according to Valemount senior girls team captains Keianna Wied and Rachel Thorpe as well as teammates Taylor Beallie and Vivian Kenkel.
Getting to provincials was the goal girls set for themselves at the beginning of the year and according to them, that meant learning to play all over again. This week they are headed to Abbotsford after achieving their goal to compete at the provincial level.
The girls and their coach Ellen Van der Wilk sat down with the Rocky Mountain Goat to talk about their path to provincials.
"There was definitely a divide," said Kenkel, a Grade 12 student. "The Grade 12s had always played with a certain group of girls that graduated last year. The Grade 11s had always played with a different group of girls who still played junior this year; so it was the merging of two teams that hadn't played together."
Van der Wilk said it was like having a whole new team at the beginning of the year.
Co-captain Keianna Wied described the process they used.
"Team bonding means doing anything possible you can as a team, even just going to the mall and shopping is good bonding. We've had movie nights and watched our games. Anything to get to know each better on and off court," said Wied.
Rachel said good communication is key.
"If you know someone really well off court you'll more like play better with them on court," said Thorpe.
Keianna said it also prevents drama.
Beallie said the team has been successful because they all share the love of the sport.
"It's not that girls are just on the team because they try out," said Beallie. "Everyone has the natural love [of basketball] inside them."
The girls said the dedication didn't stop when practice ended.
They put in extra time wherever they could, shooting hoops, playing with the boys at their practices, shooting at lunchtime and having a ball in their hand at every opportunity including at home.
Even though they've bonded as a team, overcome challenges and dedicated themselves to their sport, they recognize there is a tough road ahead.
Kenkel said they going into the tournament ranked last, 16th out of 16 teams.
"Their first game is with the number one ranked team in the province, Credo Christian from Langley.
"So that's exciting," Van der Wilk said. "They'll just see how well they can do," she said.
"We just want to come out of the tournament ranked better than when we went in," said Kenkel. "It's a pretty solid goal."
She said Valemount has played the fourth ranked team in the province, Nechako Secondary, from Vanderhoof four times.
The girls said Nechako will be cheering for them in their first game.
"It will help to have some North-Central fans down there," said Kenkel.
Kenkel said the team is dedicated to strong communication bringing intensity to every practice and every game. That means they aren't resting on their laurels, they are continuing to bring that intensity in preparations for provincials.
Van der Wilk said the girls had a 7a.m. practice last week to try and get ready for provincials.
"And they all came," she said.
Kenkel said they have had more eight a.m. games this year than any other season. "We still managed to bring intensity to those games even if it was kind of hard," she said.
"The program has a really really good foundation," said Van der Wilk. "Tim Nusse had the program going for 23 years and these girls are keeping it going."