by Andru McCracken
---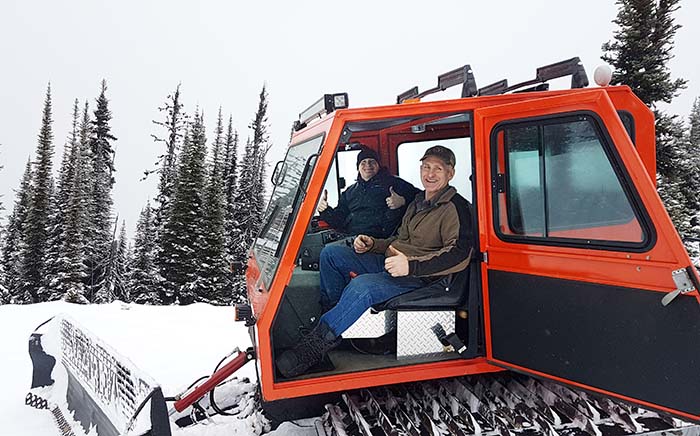 If you've ever travelled via snowmobile, you likely know of the moguls they leave in their wake. These bumps, caused by the suspension of snowmobiles, make it hard to travel to popular destinations like Crystal Ridge and around the Westridge Family Loop.
But now it is going to get a whole lot easier.
VARDA has just received a new groomer and has taken it on a maiden voyage to the top of Crystal Ridge.
"It's a big day for us here at VARDA. Today is the day we move the first ever club-owned groomer out to the Crystal Ridge sled-assisted ski hill," said Curtis Pawliuk on the Valemount and Area Recreation Development Association's Facebook Page.
Pawliuk said both the Westridge Family Loop and Crystal Ridge will benefit from a new groomer (although the Family Loop is currently closed due to logging in the area).
Despite the addition of the grooming service, there won't be any charge to use the slope for the interim, however VARDA is asking riders to donate for fuel costs. They suggest $20 per person.
There has been some grooming in the past with a pull-behind snowmobile groomer, but the new machine takes it to a new level.
"This purchase was made possible by the one and only Shirley Bond," said Pawliuk.
Pawliuk credited Bond, Valemount's MLA, for helping to enhance the 'world's first and only' snowmobile-assisted skiing facility.
Bond said she was pleased to help get the funding into place.
"One of the significant assets in the Valemount region is the incredible opportunity for backcountry recreation, always with a focus on safety, sustainability and stewardship.  We know that having unique venues like the Crystal Ridge Sled Ski Area helps to attract both local users and visitors alike and that is good for the economy and growth in the tourism sector," she said. "I am very proud of the hard work that is done by VARDA and am excited to know that the groomer has hit the trails."