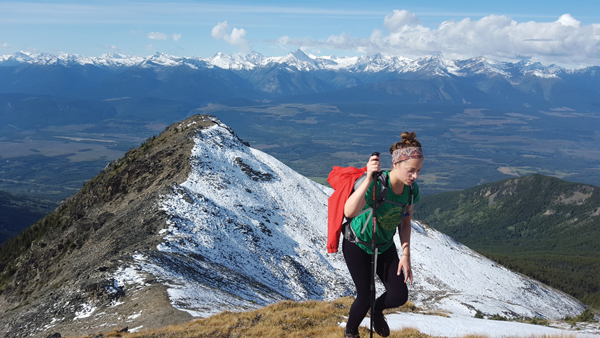 by ANDRU MCCRACKEN
Mike Berkenpas wasn't supposed to hike to the monument that day. He wasn't even planning for the summit, which was much closer. In fact he had signed up to lead enthusiastic, but lesser skilled Terry Fox Trekkers as far as the subpeak.
Thanks to his great attitude and amazing athleticism, he was able to fill in for another volunteer at the last moment.
That meant ascending 2600 metres (or 8500 feet) over 28 kilometres.
And the walk through the park, was anything but.
"We got to the peak really quickly. There were maybe four of us there almost before anyone [else] left the repeater," he said.
After getting to the peak, his group of well-prepared hikers mulled going to the monument.
Two were keen to go, so Mike decided to take them.
"We checked to make sure we had lots of water, food, everyone had rain gear and stuff," said Mike.
He hadn't actually been to the monument but had a good idea of how to get there.
As they climbed up the steep slope to the monument things got sketchy. Mike realized they probably should have been roped in.
"I had no idea how hard it was going to be," he said. "It was way more technical than anything we had encountered up until that point. There were some very nervous moments."
They made it up safely, but that set them up for new challenges.
"It was loose shale. We couldn't get down the same way," he said.
And just then mother nature threatened to throw a curveball.
"There was some weather coming in. I was really rushing to get them off of that peak because at that point we didn't have a way off. If that weather came in and socked us in we wouldn't be able to find a way back down from the ridge," he said.
The trekkers were still taking pictures of the monument when Mike ended the photo session early.
He led the group in the opposite direction they needed to get back. Then they encountered hail.
The extraordinary journey ended safely after just 12 hours, which is a very speedy day for what was accomplished.
Mike is left with mixed feelings about the trek.
"The suffering and the effort involved forces reflection for sure. It may not be worth doing if it was too easy," he said. "The people that come like that it's hard and they like that it is harder than they thought it would be. They are pretty emotional when they get to the top, they can't believe the feat they have accomplished."
However, he thinks that some changes should be considered.
"My personal opinion is that the monument and the peak should be the same thing," he said.
"All three of us agreed that the hike up to the monument was brutal and not worth the effort.
I don't think it is safe for the average hiker."