A Canadian duet is making waves in the Canadian country music industry, and they'll be in Valemount this month to showcase some of what they've got.
The duo of Ali Raney and Zoe Neuman, who as a pair have won numerous accolades, will be playing Valemount Secondary Theatre on Oct. 25.
"We find in smaller communities there is a real love and appreciation for the arts," says Neuman.
The band describes themselves as a combination of the Dixie Chicks, Mumford and Sons, and Little Big Town, saying fans will hear elements of all of them in the Lovelocks music.
"The… crowds really want you to be there, and really appreciate that you've come to their town," she says, adding the pair has never been to Valemount and they're excited to see the town.
The two women hail from the Toronto, Ontario area, and they've been friends for over 10 years, as they met singing in church.
"Every time we would sing together, people would come to us and tell us we had something special, that we sounded like sisters," says Neuman.
"Just through friendship and collaboration in the church setting we would write," she says.
Eventually people started asking the two to play at community gigs and local events, Neuman says, and once that happened — they realized they wanted to record — they needed a name.
And the Lovelocks were born.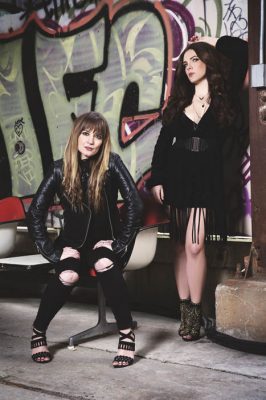 From there, both a record label and a booking agent had interest in the Lovelocks, according to Raney, which isn't super common.
"Typically you don't go looking for those types of things," says Raney. "You can't really go door knocking; they have to find you."
On top of it being uncommon to be found, the girls say it happened relatively early for them, and they realized they had talent they could market, and a career could be possible.
While the women recognize signing their record deal and the hiring of a booking agent as major accomplishments in their respective careers, the big one was in 2014, they say.
"We won our first CCMA (Canadian Country Music Award)," says Raney. "Two years after we initially started."
When the Lovelocks won the CCMA Discovery Program award, Raney says it was the first time it felt like the music industry was supporting the duo, which would lead to other opportunities.
The CCMA Discovery Program is a young artist development program, according to the pair.
Out of 200 acts from across Canada it came down to the top six, Raney says, and the Lovelocks ended up winning the whole thing.
Since then, the duo has been touring and promoting their most recent single, Time After Time, a cover of the Cyndi Lauper hit.
"We wouldn't have a career if people didn't want to come see our shows," says Raney.
"It's so important for us to say hello to everyone who has supported us along the way… and to put on a great show.
"It's the best part of being on tour."