The 2016 Robson Valley Music Festival saw the likes of many B.C. festival scene mainstays, but the festival may have also played host to the launch of two careers.
Raven Moon and Carolyn Kirk, more commonly known as Crescent Spur, played the main stage on Friday afternoon, and the Earthship stage on Sunday afternoon.
Each time they took the stage, the festival grounds were filled with the peaceful and oh so romantic tones of the flute, banjo and guitar, as a sound somewhere in between folk and country, took over.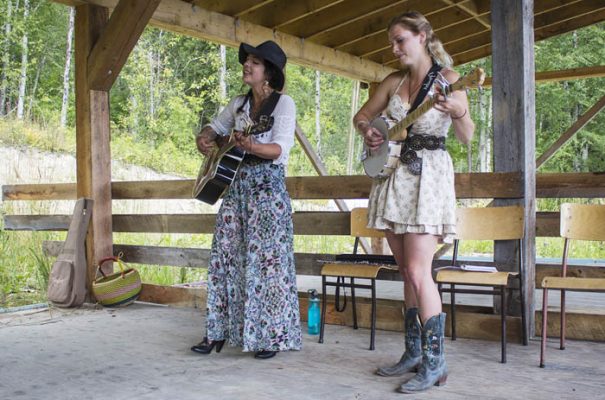 Moon — who grew up in Switzerland, and has been working with the RVMF for three years — was also on the festival's creative arts team. The team designed most of the art and dreamcatchers around the festival grounds, she says.
Moon also helped to build the stage she eventually would play on, a time in her life she says inspired some of her songs.
Kirk grew up on Vancouver Island, and spent time backpacking all over Canada, while busking to make money.
The duet has both since moved to the Robson Valley, and call Valemount, B.C. home.
While the two have been musically inclined for years, it's just in the last year that either has performed onstage.
Inspiration, according to the pair, comes from their own experience rather than other artists.
The up-and-coming pair agreed to sit down with The Goat's Evan Matthews for a Q and A.
E: What artists have inspired you two, individually, as artists?
R: I find most of the songs I write come from personal experiences, and just fiddling around with the guitar. But all the covers I do, I tend to pick covers of artists who really tell stories in their songs — I'm really attracted to the story of the song.
C: I'm inspired by so many different aspects of all kinds of music. I wouldn't say there is one genre that I really, really stick to. But when it comes to writing my own music, it's the same (as Raven), it's my own experience. It's about finding emotion, and turning it into something you can share with people, something they can relate to.
E: How did this duet come about?
R: We didn't know each other at the time, but we were both invited to this gathering at a mutual friend's house. We ended up meeting, and everyone at the gathering was playing together. It was really, really connected — our voices, the music we knew — ever since then we literally practice three times a week.
C: It started out as three of us, and it was really cool and diverse then, but I found with three of us we didn't really have the time, or even the sound, to fine tune, until it was just became two of us. Just by spending time together and practicing — we've really been able to tune into each other and find our sound.
R: Two female voices are really powerful when you get those two notes going. It's very relaxing, and it's something the RVMF didn't really have. We were the one kind-of, girl, romantic, duet.
E: Was the festival a coming out party for you two?
R: Definitely. Definitely.
C: It was the first festival I've ever played at, and Raven too. It was a huge deal for the both of us. It was good to kind-of get our name out there, and share with people outside of Valemount. It's so easy to be small town famous, you know, 'Oh, the girls who sing.' But it was really good to get our name out there and have the opportunity to play in front of so many people from all over B.C.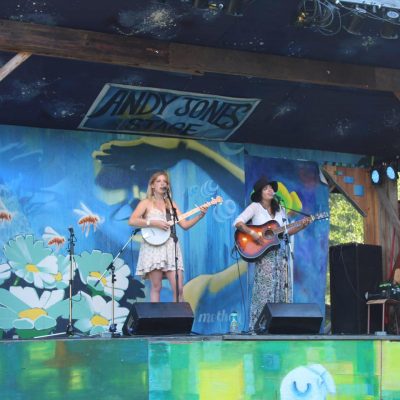 E: What was the experience actually like — when you first got on stage?
C: I'm very shy, so it's a little intimidating, but just the kinds of people out there — seeing lots of friends and family out to support us — there was a comfort level I'm not used to, especially in front of a big crowd, something so new to me. Everyone was so open and accepting. I had so much fun both days.
R: I found the sound crew really came through for us on Friday. We were opening the festival, so we were the first performers. It was special for that part too. Everyone was really patient and working together. I found even with the acoustic set on Sunday, it was a different dynamic because it was the end of the festival. Everyone was mellowed out and had to walk up the hill to see us (at the Earthship stage). It was a different experience on both days, but each time I was completely confident, and not nervous at all because I felt friendship and community.
E: What was your favourite part about the whole experience? 
C: It's hard to pinpoint my favourite thing, the whole weekend was so amazing.
R: Personally, the support from the community. I found so many people leading up to the festival were actually authentically interested in supporting us and listening to us. Even if they had never heard us play, the wanted to be there for us. There was only a few local bands, where locals knew these people and were friends with these people that were singing. They really wanted to be there for us, knowing it was our festival. Young and old from the coffee shops and around town.
E: Do you have any albums out?
 C: I have about 15 songs written, and I've thought about doing albums in the past. I spent time hitchhiking across Canada, busking and stuff. I've had all these opportunities, but I've never found the time. Between the two of us, we write so much that it's definitely something I can see in the future.
R: We found out there was somebody interested in doing some recordings in Valemount. I think until about two weeks ago we didn't know much, we're knew to the idea. It's a small town, so you're limited in what you can do. We've just been focusing on the festival really.
 E: What's next? Is there anything on the go?
R: I think that'll just be up in the air, for now. We'll see what happens.
C: We could always go and record. I just got an offer today actually.
R: Things are happening. You just never know, right? That's the beautiful part about music, when people love you, you can grow really quickly. But you have to keep that music alive — the practice, the writing, the dedication, the connection, you have to be there for rehearsals — it's a big dedication to be in a band. Everyone is a different character, but they come together for music. You have to work with that. It's a beautiful thing we've got here.
E: How long have the two of you been playing in front of crowds?
R: I actually started in front of people In Europe when I was very young, but classical. I was raised in Switzerland. I was playing, but in groups of between 60-80 people as an orchestra. We were performing a lot. As a singer and guitarist, it's only been for less than a year. It's a nervous kind-of thing to put yourself out there when you don't have much experience.
C: It's a different aspect performing in front of people. When I was hitchhiking across Canada, that's when I really got into busking, it's how I made my money to live. It's different though, because you're playing on the street and people have the choice to keep walking, or if they like you, they stop and you personally make those connections. When you're performing at a show or a festival, these are people that are making the choice to come and hear you. I've really only been performing in front of people for the last year, but really it's been like five or six years.
E: Raven, you have a song called The Sewing Song, and it intrigues me. You mentioned specific memories when referencing the song, do you relive those memories every time, and what are they?
R: I find the biggest thing about singing that song is that I want people to understand my world. There isn't many seamstresses anymore. I wanted something funny to make people smile. When I sing it, I get really happy about what I know how to do, and what I love to do, which is create. All the different things from knitting, to sewing, to making patches, fixing and mending your things, and all my friends saying, 'I need my button fixed!' It's a song about all these experiences I have on a day-to-day basis nobody ever sings about.
E: Carolyn, you have a song where you mention a "special someone," while I won't pry too much, is it hard to put yourself in such a vulnerable like that in front of people you don't necessarily know?
C: No, I've never found myself vulnerable to sharing my feelings or emotions. I think it touches people. I'm very soft, and I like very sweet songs, so I think it touches people to hear that, and maybe they can relate it to a special someone too. But in a sense, it is really funny to see my special someone out there blushing, saying, 'She's not singing about me,' so I think for other people — it might make them feel a bit vulnerable. I'm so comfortable with sharing my feelings.