by LAURA KEIL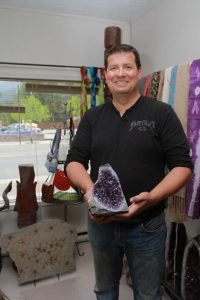 When he's not running tools in oilfields around the world, Joe Rosychuk is collecting.
From neolithic arrowheads from Algeria to precious stones and fossils, Rosychuk's bags are always full on his return flights.
Now a new store will let you see – and purchase – some of his collection. Stare into an Orangutang skull or at hand-painted Egyptian papyrus. Study his fossilized wood and coral artifacts. Peek into purses from Pakistan and Indonesia.
A frequent traveller for work, in the past eight months he has been to Peru, Egypt, Indonesia and India. He says collecting is a lot easier when you're travelling.
Rosychuk moved to Valemount four years ago, around the same time he started collecting. He soon got the idea for a store.
Rosychuk has some less expensive items as well including cheaper jewellery and jewellery making supplies.
"I've got everything from high-end to nickel and dime stuff," he says.
He also has many gem stones and crystals and he says he has found some garnets and other stones in the Robson Valley. He hopes to start a local rock hound group.
Rosychuk says he hopes to open early July once he's back from another work trip to India. He plans to be open late-morning to evening, though his hours aren't yet set. His store is located next to Yellowhead Realty on 5th Ave in Valemount.