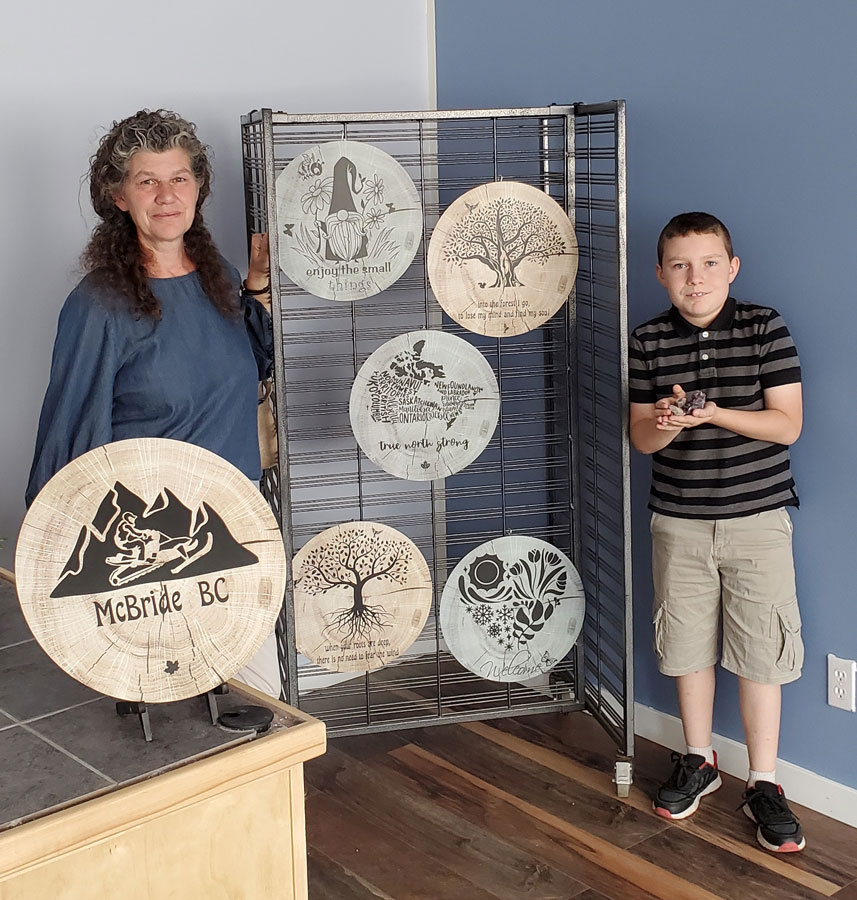 By Andrea Arnold
New McBride resident Gina Gallacher is excited to open the doors of her new shop, Mountainview Boutique at 277 Main Street across from Home Hardware. Gallacher and her family recently moved from rural Ontario. One of their sons spent a summer working in Invermere and announced that when the time was right, he was moving to Kelowna BC. The time came for him to make a decision, and the family decided they too would make the trip across Canada.
They didn't want city life however, so Kelowna was out of the question. On their computer they followed the highway north, doing research and looking for a small community to call home.
"McBride fit the bill," said Gallacher. "Jonah, our youngest son, loves trains, so when we arrived and saw the big Welcome to McBride sign, we knew."
The family arrived near the end of June and began renovations on both the home and the shop they had purchased from afar.
The shop will offer a variety of items similar to a small department store. Clothing, accessories, jewelry, purses, cleaning supplies and kitchen gadgets will be available.
"I will have a limited stock," said Gallacher. "I want to keep things fresh and new by bringing in new items regularly." Her goal is to have a selection of retro candy available as well.
"I work with Canadian wholesalers," she said. "My goal is to keep the prices as low as possible."
Gallacher has been a long time supporter of buying local, and wants to use a part of the venue to showcase local artisans. A crafter herself, Gallacher wants to help show off the talent in the valley. She has created wall hangings to sell and son Jonah, a talented artist, will also have work within the shop. She is looking for more people to come forward with their artwork to sell on consignment. Her arrangement states that the artist gets 70% of the sale and she holds 30%. If people want to work with her, she can be contacted directly through facebook at this time. The store will have its own Facebook page in the future.
Her hope was to open this week, however, she has come up against a few timing issues, and has had to bump back her grand opening until July 24th as she waits for stock and store fixtures to arrive. Although the grand opening is set for the 24th, watch for the open sign.
"I am really excited to meet the community, and I am looking forward getting involved as well," said Gallacher. In regards to the store, she says she is looking for suggestions and will do her best to accommodate.
"I am here to provide more variety to your downtown shopping experience."