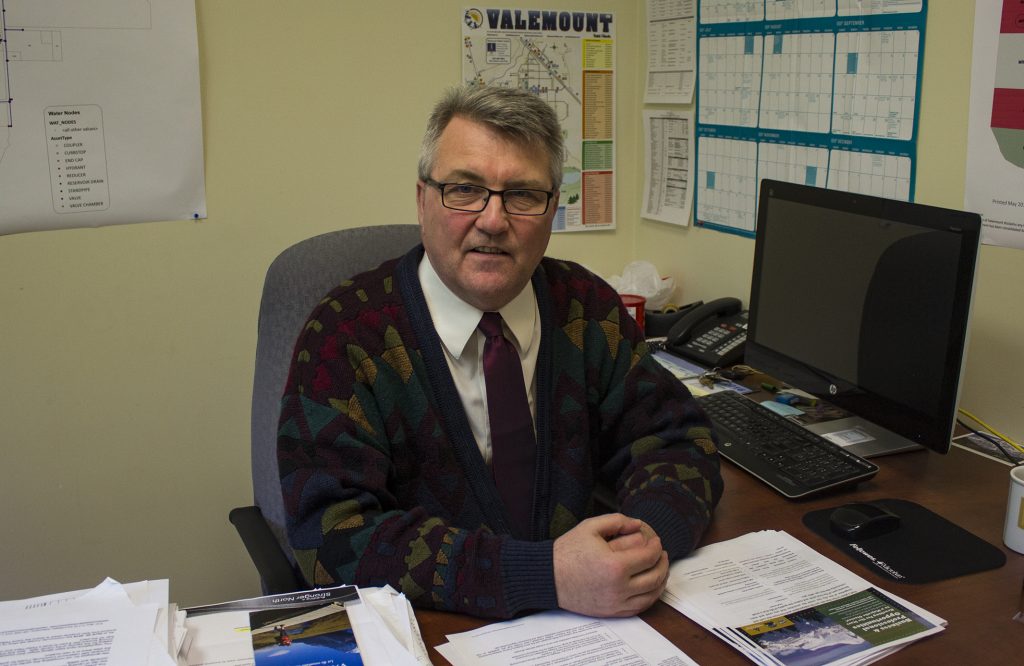 by EVAN MATTHEWS 
Although the new Chief Administrative Officer only has two months in Valemount under his belt, he said he's working to make sure the village is on the right track, and doing so might start with the trains.
Mark Macneill said with his background in financial management, corporate finance and strategy, he's always been very good analytically.
"It's turning lemons into lemonade," said Macneill.
"If you're entrepreneurial, you take things that at first you might think are an issue or concern, and you try to change it from being something that has potential negative or risk into something that is improved and provides some kind of benefit," he said.
Macneill said whether you're a person, an organization or a community, identifying strengths you can build on is a key to success. He referred to this process as comparative advantage and strategic positioning.
"We're a community, and it's a global market place out there," said Macneill. "You have to analyze the market, your strengths, and then look at competitors and position yourself relatively."
With the Valemount Glacier Destination Resort on the cusp of approval, Macneill said the resort would be an obvious strength of the community.
However, he said the current railway infrastructure for passengers is not one of the village's strengths, and keeping with the entrepreneurial mindset, he said there are opportunities for improvement and development.
Valemount is a current stop for VIA Rail but Macneill says the current "station" — a concrete pad — is inadequate for senior citizens and people living with handicaps, and there is need for a new one. He stressed this is more of a reality than a complaint, and the idea is in its early stages.
"The Asian communities were a large part of the heritage here… Everybody knows we're not doing enough to recognize it," said Macneill. "If you think a little grander, a little more bold… I'm pitching we include a modest pavilion, or a seasonally manned museum."
Next year is the 150-year anniversary of Confederation in Canada, and according to Macneill, might be the best time to approach the federal government for additional funding.
Macneill said with Marmot just over an hour away, the possibility of a weekend flyer from Vancouver or Edmonton wouldn't be out of the question. He said there would be potential to ski both hills in a weekend with a package deal, while never having to drive.
"At first it seems like a little idea, but this all comes back to comparative advantage and strategic positioning," said Macneill. "It's trying to find little niches you can cultivate that organically fit the resources we have to offer."
While it's just an idea at this point, Macneill said he's interested to see whether anything takes root, and he can't do it by himself — his job is administration, facilitation and leadership.
"If I come up with ideas… It's a bonus," Macneill said. "We have to pitch it, and see how it goes along."