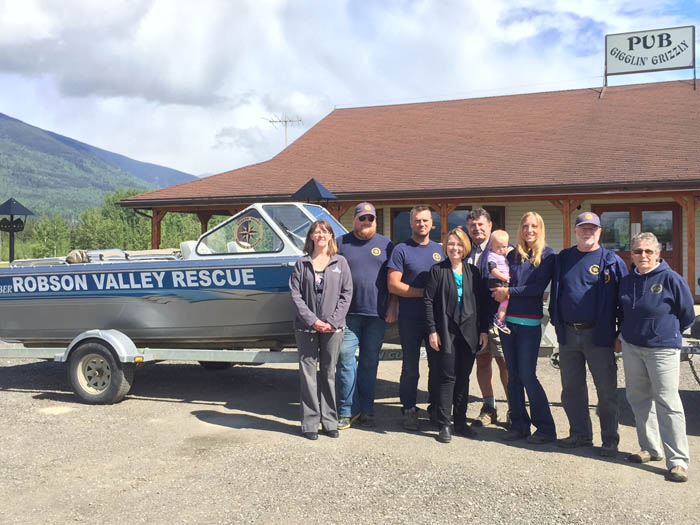 by Evan Matthews
The Robson Valley Search and Rescue team will see some additional and much needed funding.
The Province will add $59,153 to the Robson Valley Search and Rescue's budget both this year and next, says MLA for Prince George-Valemount Shirley Bond.
"We've used part of the funding to purchase a jet boat and intend to have it operational by the middle of June 2016," says Dale Mason, Robson Valley Search and Rescue manager.
"We operate from Blue River to Penny. There are a lot of rivers and a major water reservoirs in there. With several water-related calls, this will cut response times," he says.
Prior to the purchase of the jet boat, the search and rescue team was forced to make calls to local people in the hopes of renting a boat as they needed.
The added funding comes from the B.C. government's $10 million commitment to the BC Search and Rescue Association (BCSARA), and Bond says the money is to help bolster training, administrative support and equipment renewals.
"Every day dedicated volunteers ensure that when people require assistance and support, they have it," says Bond. "The Robson Valley Search and Rescue team does a great job, and we're pleased to see them receive additional funding."
Robson Valley Search and Rescue say they plan to commit the 2017 portion of the funding to purchase a new emergency response vehicle, which Mason says will be a truck, along with responder safety equipment.
"The truck we're running now is a '98 or a '99," says Mason. "We're not exactly sure what it'll be yet, but it's time for a newer one."
Monday's announcement builds on the $6.3 million the B.C. government is already providing each year to cover search and rescue operational costs, according to the press release.
Mason says over the next few months they will be working with an avalanche skills trainer to create a training program for their Mountain Snowmobile Response Team.
"We've also booked an advanced avalanche transceiver course for our Mountain Snowmobile Response Team this winter," he said.
Earlier this year, Mason said they need to upgrade their gear as technology changes. They've had to purchase computers with appropriate software to do mapping, handheld radios, GPS devices and avalanche transceivers.
"Finding funding for those things gets a little challenging," he said.
He says this added funding should alleviate some of the burden.