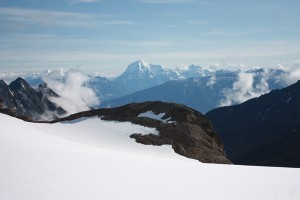 by LAURA KEIL
The leaders of both the BC Green Party and BC NDP have come out in support of the Valemount Glacier Destinations (VGD) project, and question the hold-up for approval.
In a statement posted to his MLA website, Green Party leader Andrew Weaver penned a 1600-word essay on Valemount and the opportunity afforded by VGD.
Weaver writes the project is "a rare example of community-driven success" with a small town joining forces with the local First Nation, experts from Vancouver, and Canadian investors.
"The undertones of Nation Building cannot be denied in this aligning of forces," he says.
Weaver praised the environmental assessment of the project, calling the design an "environmentally sensitive year round ecotourism resort."
NDP leader John Horgan spoke on Voice of BC June 2nd outlining his support of the project as well:
"Supported by the First Nations, overwhelmingly supported by the last mayor, the current mayor and the entire council. They've got capital investment ready to go. They're waiting for the provincial government, the BC Liberals, to give them the thumbs up, and they're off to the races. So there's one right off the top I support…." he said.
Weaver says "the "forces of no" within the BC Liberal government really need to "get to yes" in a timely fashion on this project.
He says the delay falls squarely in the realm of government red tape precluding the project from getting to yes.
"The project is six months behind and the latest layer of red tape is a bizarre new requirement for a four lane 80 km/hr highway to take skiers on an 8km journey from Valemount to the Resort Base village."
Prince George Valemount MLA Shirley Bond counters Weaver's and Horgan's critique of the BC government's lag on approving the project.
"Every project of this magnitude must go through a rigorous process to obtain the necessary approvals before proceeding," Bond told the Goat in a statement. "Additional resources have been added to move the project through the process as expeditiously as possible."
Bond did not elaborate on what those resources were by presstime Tuesday, but she says VGD is not being required to build a four lane highway to the resort base area. The road being built is two lanes. She says VGD and the Ministry of Transportation and Infrastructure signed an MOU regarding public road construction requirements for the public road to the resort to ensure it meets provincial requirements.
VGD submitted their final Master Plan last fall and are now waiting for the green light to begin construction. In March, proponent Tommaso Oberti said they hoped to open by December 2017.