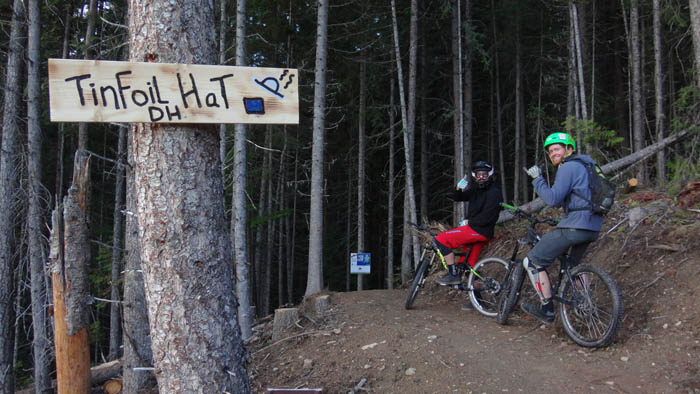 by EVAN MATTHEWS
The Valemount Area Recreation Development Association (VARDA) continues to ride its momentum, as phase two of construction on the Valemount Bike Park is underway this summer.
The second phase will finalize the new version of the Swift Creek Trail and will add a new downhill trail and a flow trail, a low risk, gravity assisted trail almost anyone can ride, according to Curtis Pawliuk, VARDA's general manager.
There is a clear demand for completion of the park, Pawliuk said, as the park continues to garner interest.
"A trail counter installed on Apr. 27 near the entrance of the Tinfoil Hat Downhill trail is showing 500 users as of morning May 17," said Pawliuk. "That's quite an impressive number considering the short timeframe."
While 500 users is a large number, it may be less surprising to local mountain biker, Graham Woolsey, who said Tinfoil Hat is his favourite trail.
Valemount values its mountain biking culture because of the accessibility, according to Woolsey. He said if you compare mountain biking to skiing, snowboarding or sledding, it's not a full day commitment — you just go.
"Locals who you didn't even know could ride a bike are now on some old bike they found in the garage, and they're ripping down trails," said Woolsey. "It's getting people stoked and getting them active, which I think is really good."
Funding for these projects came from a number of sources, said Pawliuk, but the Columbia Basin Trust (CBT) and Northern Development Initiative Trust (NDIT) have provided such generous contributions, and without them the project wouldn't have been possible.
CBT is supporting the construction of the second phase through two of its programs.
VARDA received $50,000 from the Community Initiatives Program through community support, Pawliuk said, and a further $82,000 toward this summer's developments from the new Recreation Infrastructure Grant Program.
NDIT has also been a valuable supporter, Pawliuk added. Through its Community Halls and Recreation Facilities Program VARDA has received a $28,000 contribution to this summer's development.
NDIT says it has invested in the trail development because it sees the value in expanded regional mountain bike infrastructure attracting tourists and diversifies the local economy. To date, NDIT has invested in mountain bike trails in Williams Lake, Quesnel, Wells, Prince George, Vanderhoof, Burns Lake, Houston, Smithers and Terrace.
Contributions from CBT and NDIT totaled $160,000, Pawliuk said, and the overall contribution total is slightly more with additions from some of the bike park's other supporters.
"VARDA and the Valemount community have benefited greatly by the generous support from these amazing organizations," said Pawliuk. "The development of the Valemount Bike Park has been a very exciting project for VARDA and one seemingly enhancing the already great community we live in."
CBT and NDIT also provided a significant funding for the first phase of trail construction including the new Swift Creek Bridge.
Pawliuk expressed thanks to many supporters of the trail network including Recreation Sites and Trails Branch (Ministry of Forests, Lands and Natural Resource Operations), Regional District of Fraser-Fort George, Simpcw First Nation, Yellowhead Outdoor Recreation Assocation, Valemount Community Forest, the Village of Valemount and volunteers.