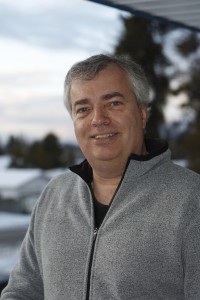 by EVAN MATTHEWS
Typically when a sporting event is broadcast, the athletes win awards, not the TV station.
But after Gord Peters, the VCTV station manager, acquired broadcasting rights to a student run show highlighting the 2015 Canada Winter Games, he's put the station in contention for the Best Customer Service Story award, according to the Canadian Cable Systems Alliance (CCSA).
"I asked what the possibility would be of us getting the broadcast rights," said Peters.
But the Canada Winter Games Committee told Peters they weren't overly interested in broadcasting the show to a town of 1,000 people.
"I said, 'Did you know our station is picked up across Canada on the Bell and Telus networks?' And they didn't know that," said Peters. "We're carried to over two million homes."
Peters said Canada Games TV Today was a 30-minute daily show, which highlighted the day's events at the games.
Held in Prince George, the games didn't have a national broadcaster, according to Peters. Given the low budget of the community station, Peters said he was interested in covering the games without having to be there.
Peters added although VCTV has no way to measure ratings, he was receiving appreciative comments from daily viewers. Later, Peters said he found out no other station had even contacted the committee about broadcasting the show.
Peters' efforts to strategically position the station didn't stop there, he said, as at the end of every Canada Games broadcast, the station added an episode of Discover Valemount a tourism show.
Discover Valemount is also nominated for an award in a different category, Best Community Channel Programming Entertainment. Peters said this is the third consecutive nomination for the show in the category, and the show actually won the award in 2014.
"The nominations this year highlighted amazing local television content, and introduced us to the on-air personalities that make local programming so special," said Alyson Townsend, CCSA president and CEO.
"The level of support really shows Canada's local cable companies are a valued part of our country's communications ecosystem," she said.
Peters said the voting is open to the public, and runs from May 24 to June 17.
"The winner receives $1,000 to donate to a local non-profit," said Peters. "We did it in 2014 and we gave it to the Rodeo Association, and we hope to do it again this year."