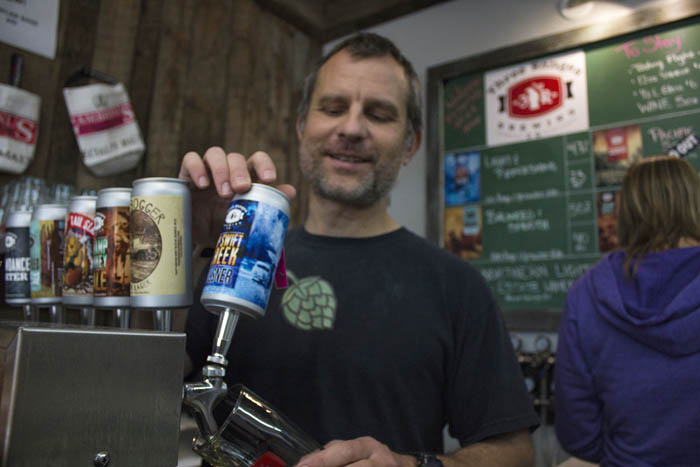 by EVAN MATTHEWS
With distribution now as far as Edmonton and Prince George, Three Ranges Brewing Co.'s next expansion will happen locally.
Michael Lewis, owner of Three Ranges, said given the foot traffic through the summer, upping the capacity of the bar by 19 just makes sense.
"We hit capacity on a pretty decent basis as the summer moves along," said Lewis. "When you look at when we do have it packed full — (sometimes) people walk by and go, 'Nope.'"
At the May 10th council meeting, the village voted in favour of the expansion to the serving room. The old capacity was 32, and the new addition will bring capacity up to 51.
"I would like to congratulate them," said Councillor Hollie Blanchette during the council meeting. "The fact they need to expand is great, both for them and for our village."
Although the motion for expansion has passed through council, Lewis said they're still waiting on the liquor board to approve a new license, which could take anywhere from two to eight weeks.
"Our patio isn't huge, and a lot of people want to sit out there," said Lewis. "If they walk in and can at least sit in here then it makes things better."
Although some people might think there isn't room in the current location, Lewis said he has a plan.
"We're slowly transitioning out of the office, getting it all set up, so all we have to do is rip the wall down and clean the floors," said Lewis.
"We want to potentially be a part of the geothermal industrial park. That's my three to five year plan right now, and building a facility there, while keeping our taproom here," he said.
Lewis added cask nights and specialty brews tend to draw in more customers.
He said the last specialty brew Three Ranges did involved taking the porter brew and adding vanilla, oak, and a little bit of Irish Whisky, but it was a jalapeno cask that has been the most well received – the brewery sold 20 litres in 56 minutes.
"It tastes like taco in a glass," said Lewis. "I'm planning ahead, so we have enough jalapenos for the next Cinco de Mayo."