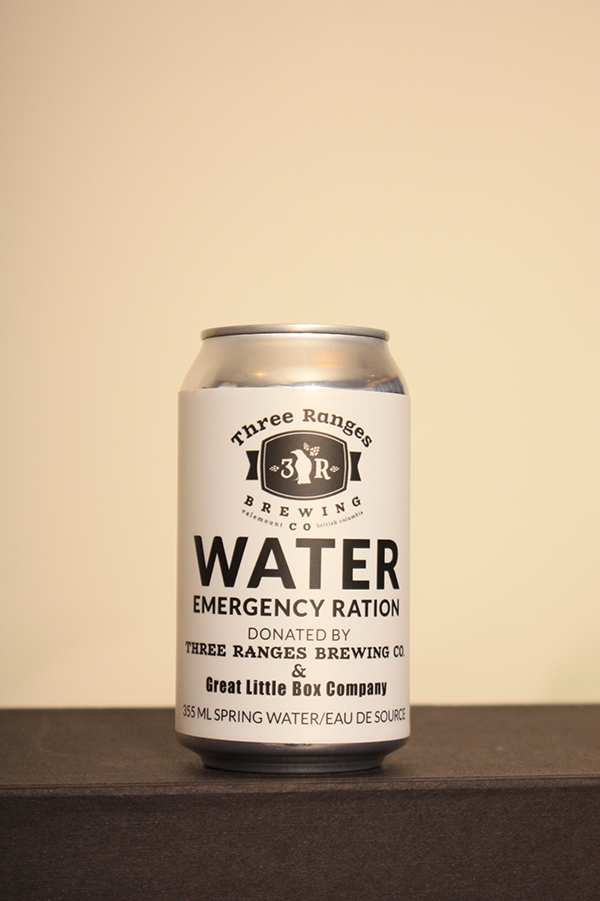 By Laura Keil
A brewery may not be the first business you think of when it comes to pitching in with emergency response, but even before the pandemic and recent flooding events Michael Lewis and Rundi Anderson of Three Ranges Brewing Co. in Valemount had been using their brewery infrastructure to can emergency rations of water.
At the end of February, Three Ranges shipped 80 flats of canned Valemount water (the bulk water donated by the Village of Valemount) to Lheidli T'enneh First Nation to use during emergencies.
"We thank Three Ranges Brewing Company for this generous donation of canned water," said Chief Dolleen Logan. "Our Council, administration and staff are just starting to assess our readiness to respond to this year's floods, wildfires and summer heat dome. Of course, we hope there won't be any emergencies this year, but our members expect us to be prepared just in case."
She said they also thank the Great Little Box Company in Vancouver for providing clearly marked labels for the water.
Lewis and Anderson say they are aware that the Lheidli T'enneh First Nation has faced challenges in the past with the water supply that serves members who live in the North and Southside subdivisions that some residents had to evacuate during emergencies.
"We are pleased to help the LT First Nation with this donation and its emergency response planning for 2022."
Three Ranges Brewing Company is a small brewery situated at the junction of three mountain ranges. Michael Lewis is a retired US Army helicopter pilot. Rundi Anderson is a retired Parks Canada warden. Together they became brewery founders passionate about bringing great beer to the north.