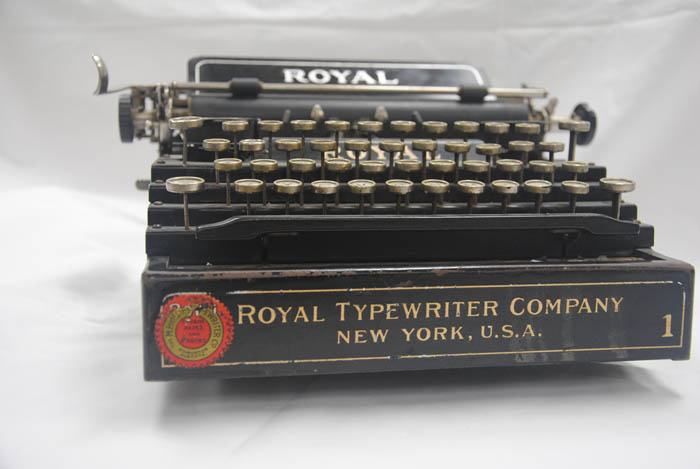 By HEATHER ZAHN
Curator, McBride & Dunster Museums
ROYAL 1 TYPEWRITER
Founded in 1904, The Royal Typewriter Company was formed in Brooklyn, New York by Edward Hess and Lewis Myers. Within a year the company was struggling financially and the founders sought out a financial backer. Upon demonstrating their prototype, they sold financial control of the company for a whopping $220,000 to Thomas Fortune Ryan. In today's dollars, that equates to roughly $5.5 million – all for a company with just a prototype.
Within a year of gaining their new financier, The Royal Typewriter Company marketed and rolled out their first typewriter in March 1906 – the Royal Number 1. The design featured several unique elements including a lighter and faster typebar action, and a new paper feed, but it was the "flatbed" design of it that made this typewriter truly distinct. The flatbed design allowed words to be visible while typing on the same row. This was drastically different from older designs which would not allow words to be seen without moving the paper.
Royal gained popularity with the people, while antagonizing its competition when they started selling their machines at $65 each – a whole $35 less than their competition. This doesn't seem like much until you convert it todays currency, the difference alone was roughly $600. Remington and Uniton Typewriter Company, better known as "the Trust" immediately began legal battles with Royal. They were not upset that Royal was selling their typewriters for less, it was the fact that Royal, in their publicity announced that typewriters themselves only cost $28 or less to make. For 30 years, the Trust had fixed the rate of machines at $100, ruining or assimilating smaller companies through meritless lawsuits that tried to take a stand. Unlike those other companies though, Royal had the financial backing of Thomas Ryan, Solomon Guggenheim, Philip Dodge and John Crimmins – who were considered to be some of the richest, most powerful men in the world. Needless to say, the Trust lost their war.
Number 1's started being phased out with the introduction of the Number 5 in 1911 and the "upright" number 10 in 1914. This particular Number 1, donated by Robert Frear, can be dated back to 1911-12 using its serial number.