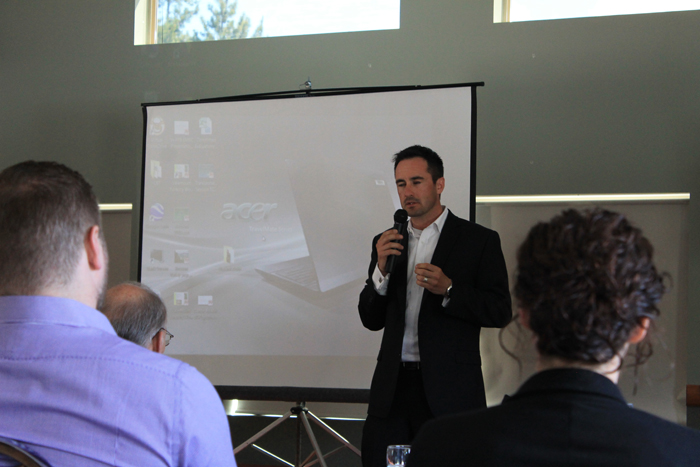 by KORIE MARSHALL
Representatives of Borealis Geopower were again in Valemount last week to let residents know about a unique opportunity which could make Valemount the "geothermal ambassadors" to Alberta and Canada.
On March 31st, Alison Thompson, this time representing Borealis Geopower, though she is also the chair and co-founder of the Canadian Geothermal Energy Association, and Craig Dunn, principal and chief geologist with Borealis, spoke to about two dozen people at a quickly arranged meeting at Three Ranges Brewing Company.
Borealis is applying for what Thompson is calling a "super fund." It's a joint program between a federal non-profit organization called Sustainable Development Technology Canada and an Albertan organization called the Climate Change and Emissions Management Corporation. Borealis' project is to build a demonstration geothermal energy industrial park in Valemount, or a "geopark" (not the UNESCO type of Geopark, which is currently being considered for the McBride to Barriere corridor area).
Through the program the funders are offering a total of $40 million dollars to projects that will demonstrate how Alberta can reduce greenhouse gas emissions. The project can be anywhere in Canada, it just has to be replicable in Alberta, says Thompson.
"We want other communities in Canada to do this," says Thompson. "Valemount will be geothermal ambassadors to Albertans and all Canadians."
Borealis is proposing a small power-generating project at the Valemount Community Forest's Industrial Park in Cedarside, with other small businesses using the "waste heat."
Borealis has the permit to explore the Canoe Reach area for heat high enough to generate electricity – over 80 degrees Celsius, though they want to find much higher. Dunn says that project is still three to four years off. After the geothermal workshop in February in Valemount, he realized the community was interested in the potential jobs that could be created with direct-use geothermal heat (direct-use heat can be a lower temperature than the kind used to make electricity). He says helping develop heat in the Industrial Park for community use will let them keep working on their electrical project. This fund program was announced on Feb. 29th, after the workshop, so they've been working quickly to try to pull it all together.
Thompson says only small to medium sized enterprises are eligible, and projects also have to be partnerships. Borealis already has a number of small businesses interested in their application, but wanted to ensure anyone in Valemount who might be interested has the opportunity to be involved as well, especially since the fund matches what each business puts in 2-1. But the deadline is coming quick – completed applications have to be in before April 12th, and the competition will be tough. Thompson says she thinks there will be thousands of applications, and each of the two organizations will create their own shortlists. If your project is on both lists, you will stay in the running after May 24th, and you will find out about the funding late in 2016.
Michael Lewis, owner of Three Ranges Brewing Company, says he is going to be one of Borealis' partners on the project, to use heat for the brewing process at an expanded brewing facility. He's done his own research, and his main concern is the question of who will run the utility – the system of connecting the heat to various buildings, setting and collecting the rates from the users, and maintaining the system – in the long term.
"I don't want to be your utility," says Dunn, "I want to explore geothermal."
But could the Valemount Community Forest provide the utility service? Could the Village? Could a new non-profit association do it? The answer to those questions remains uncertain. Valemount Council has set up a new committee to advise them on geothermal direct-use (the application is open until April 7th) and expects to appoint members to the committee on April 12th, so that will be too late to make any decisions for the application. Members of the community are currently incorporating a new non-profit called Valemount Geothermal Society, aimed at supporting the development of geothermal resources locally (the group planned to meet April 10th at to discuss membership fees and elect the first board), but they also won't be far enough along to commit anything but support to the project.
Thompson says there will still be opportunity later for others to get involved in the geopark project; they just won't have the opportunity for funding to be matched from this program. She says municipalities may have access to other funding though, specifically for utilities, and non-profit organizations will have opportunities as well.