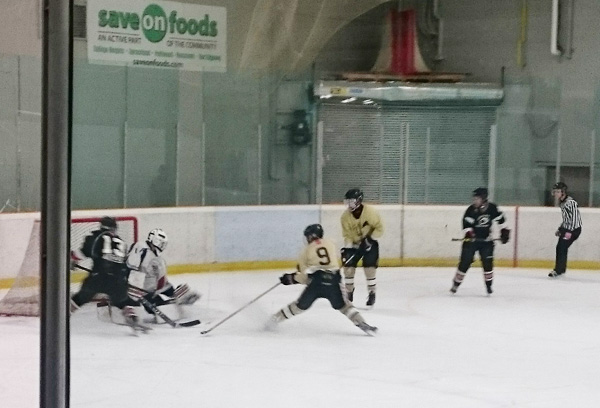 by BRADY KNEZACEK
The McBride Grizzly Midget Hockey Team travelled to Prince George last weekend to play the Prince George Polar Refrigeration Tier One hockey team. The Grizzlies played Saturday night and Sunday morning in the two game series.
The first game at the Elks Arena was back and forth with each team scoring in the first two periods. The evenly matched game was tied 2-2 going into the third period. Both Grizzly goals were scored while shorthanded – the Grizzlies found themselves on the wrong end of numerous penalty calls. Valemount product, Darian Griffin, prevented the PG team from capitalizing on any power plays opportunities with his excellent penalty kill shifts. Going into the third period Grizzlies coach Brian Shawara's conditioning drills at practice paid off with the Grizzlies using their speed and dominating in puck possession time. The Grizzlies scored 4 unanswered goals on their way to a 6-3 win. Scoring in order for the Grizzlies was Dylan Vizza (SH), Brett Jones, Bryden Basran (2 G, 1-SH) and captain, Keith Shawara. The referee mistakenly credited the sixth Grizzly goal to birthday boy, Brett Jones. The actual scorer, Dawson Drader, commented to Jones "consider it a present." Grizzly assists went to Drader, Shawara, Vizza, Basran and Jordan Gibson.
Grizzly goalie, Robert Knezacek, shut the door in the third in his 35 save performance.
In the Sunday morning game at the Kinsman Complex, the Grizzlies came out in their usual morning stupor and were down 2-1 early in the second period. Basran had the lone goal with assists from Shawara and Austin Gibson. Special teams bailed out the Grizzlies with Drader and Basran notching power-play goals with assists coming from Shawara, Vizza and Austin Gibson. Grizzly coaches were seen on the bench looking shocked with the team's power-play success. The score was tied 3-3 going into the third period in what parents and spectators called a fast and entertaining game. Both teams had numerous scoring chances in the third period with both goalies playing well.
With just 2:52 left in the game, Vizza converted in the slot with a sweet feed from Jones to put the Grizzlies ahead 4-3. Rylan Moore and Noah Janeke played outstanding defense in front of goalie Knezacek (30 saves) and prevented goals on two occasions. A major factor in the weekend wins was the commitment in forechecking Grizzlies forwards Ethan Quam, Jordan Gibson and Shaelyn Bratten provided . This resulted in puck turnovers which in turn resulted in goals. Next action for the Grizzlies is in Mackenzie, BC in mid-February for tournament action.