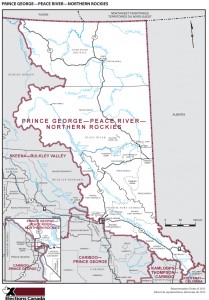 1968. That was the year the Liberals lost their seat to the Progressive Conservatives in the PG-Peace River federal riding. Since then the riding has been held by the PC, the Conservatives, Reform and Alliance.
For the past 40 years the second-in-line party has never come close to ousting these right-of-centre parties.
In the last decade (there were four elections), the NDP have consistently come in 2nd place, but far from ousting the top player. They captured 17 per cent of the vote in 2004 and 17 per cent again in 2008. In 2011, they increased that to 25 per cent, largely due to a drop in support for the Liberals.
The Greens have nabbed between 6 and 10 per cent of the vote in this riding during that, outpacing the Liberals in the last two elections. The Liberals saw their support drop to just 5% in the last election, just behind the Greens at 6 per cent.
The drop might seem like good news for those worried about splitting the vote on the left of the political spectrum, however, the Conservatives outshone the NDP challenger 62-25 (per cent of votes). The NDP would have to gain 19% and the Conservatives would have to lose that much, in order for the NDP to win.
In terms of spending, in the last election Conservative Bob Zimmer spent twice as much as the NDP candidate, and 7 times as much as the Green and Liberal candidates in the 2011 election. The Conservatives or Alliance have consistently outspent their competition by sometimes as much as 5 or 6 times during the past decade.
Voter turnout was just 53 per cent in the last election, the lowest of the four northern-most ridings. 46.7 per cent of eligible voters did not vote – that is, only 39,000 out of 74,000 eligible voters exercised their right. Bob Zimmer captured 24,348 votes compared to NDP Lois Boone who took 10,177 votes.
In the new PG-Peace River-Northern Rockies riding, the electorate has expanded to include a slightly larger area which includes Valemount (formerly in the Kamloops Thompson Cariboo riding). There are 75,000 eligible voters in the riding.
In terms of demographics, 10.3 per cent of residents in this riding are of First Nations descent, the third highest number for a riding in BC. Just seven per cent of people identified as immigrants, the lowest number in the province.
Many smaller parties have given it a go in the Peace River riding over the years, including Social Credit, Rhinoceros, Marxist-Leninist, Canadian Action, Pirate, Natural Law, Christian Heritage, Commonwealth of Canada, and Confederation of Regions.
This election, six candidates have thrown in their hat: they include:
Bob Zimmer, Conservative (incumbent)
Kathi Dicki, NDP
Elizabeth Biggar, Green
Matt Shaw, Liberal
Todd Keller, Libertarian
Barry Blackman, Progressive Canadian