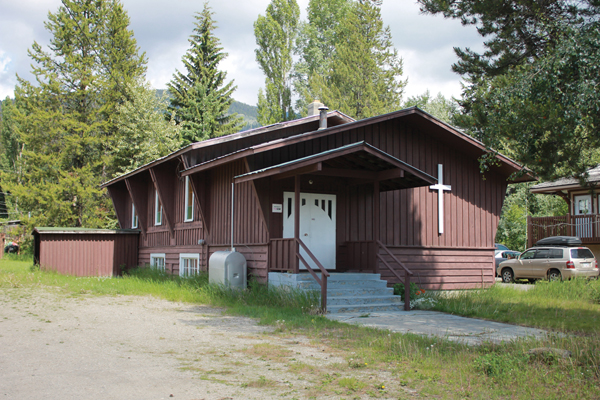 A long-time Valemount resident recently noted the village has come full circle – houses are asking to become home businesses, businesses are asking to become churches, and churches are asking to become houses.
Of course it is not the buildings themselves that are asking, but the people who occupy – or hope to occupy – them. In recent years Valemount Council has created new rules for home businesses of various types and issued temporary permits for a commercial property on 5th Avenue to be used as a church. Council will now consider a zoning amendment to allow residential use in a vacant church building.
The property at 1080 Main Street, next to the library, was originally constructed as an Anglican Church back when Main Street still formed the commercial spine of Valemount. It was most recently used by the Valley Christian Fellowship Church, led by Pastor George Virgoe, but the church has been shut up for over a year and a half, and is listed for sale with Valemount Real Estate. The listing agent is Jeannette Townsend, who is also Mayor of Valemount.
On the agenda for the May 12th Council meeting, staff requested authorization to prepare a site specific text amendment to the Institutional and Cultural Facilities (P3) zone to permit a single family residence within the former church building. Staff also recommended they be authorized to revisit the Main Street Planning Area development policies during the upcoming update of the Village's Official Community Plan.
The report from staff says the prospective purchasers intend to develop a single family residence within the former church building, without compromising the profile of the building. Staff noted the building may have heritage and cultural value to the community because of its history.
During the meeting, Mayor Townsend recused herself from discussion on the topic, citing a perceived conflict of interest.
"I am going to proclaim a perceived conflict of interest, the reason being that my husband was a member of that church, I was an adherent. And it is listed with Valemount Real Estate."
Townsend later confirmed to the Goat she has been with Valemount Real Estate since 2002. She said the listing agreement is signed with Valemount Real Estate, and it wouldn't matter who listed or sold the property under the company.
"If Tammy (VandeNobelen) was the listing salesperson, I would still declare a conflict of interest," said Townsend.
Councillor Owen Torgerson also recused himself, citing that he is a former member of the church.
Councillor Peter Reimer, deputy Mayor for the month, took over the chair.
"We've done something like this before; this is such a mixed zone," said Councillor Sandy Salt. She said she is prepared to go with both recommendations from staff. Councillor Hollie Blanchette agreed, and Acting Mayor Reimer also agreed it is a good use of an empty building.
At the May 26th meeting, Mayor Townsend and Councillor Torgerson again recused themselves and a bylaw to make the site specific zoning amendment passed first and second readings. It has been referred to a public hearing on Tues. June 23rd at 6:45p.m.