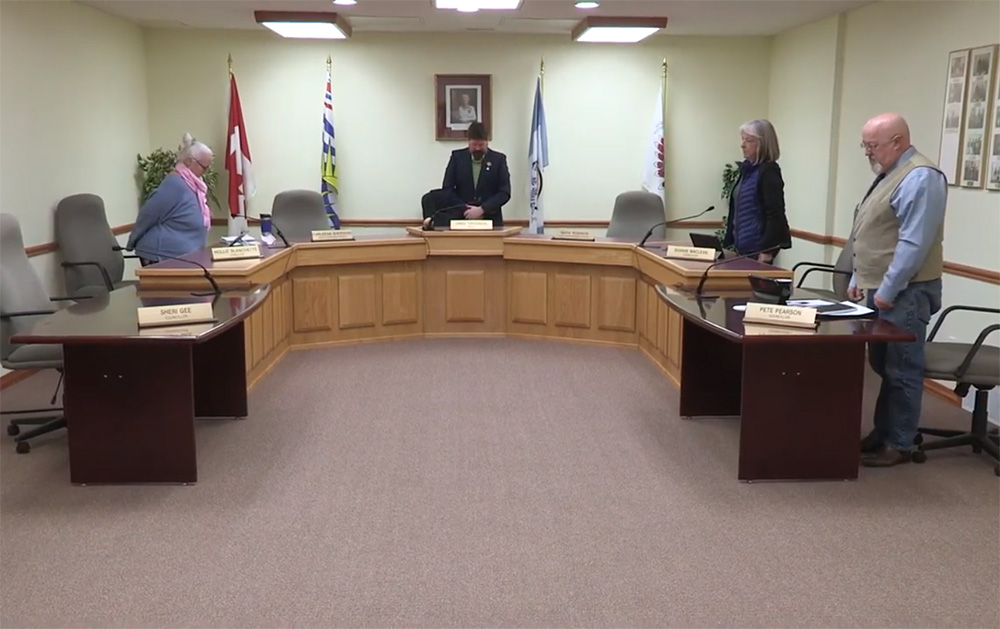 By Andrea Arnold
The March 22, 2022 Valemount Council meeting was called to order by Mayor Torgerson.
Leadership Forum attendance
No one on Council is available to attend the 2022 LGLA Leadership Forum to be held in Richmond on April 6-8, 2022.
Accounts payable
Council received the accounts payable report for January & February for information.
Conference attendance
No Council members could confirm attendance at the Association of Kootenay & Boundary Local Governments (AKBLG) 2022 AGM & Conference in Nelson April 22-24.
Municipal tax rate increase
Council approved a 4 per cent municipal tax rate increase to be implemented in the 2022 Tax Rate Bylaw.
Visitor Information racking fees
Council approved that all racking fees be removed for local non-profit organizations wanting to advertise at the VIC. Councilor Blanchette suggested a conversation with the VIC regarding lowering fees overall, allowing a more affordable option for everyone to provide community information through the centre.
Development variance permit
Council approved Development Variance Permit 22-02-1100 Main Street – The request from the Lions for a decreased minimum setback of a roof overhang from 1m to 0m. Neighbouring resident Richard Korejwo submitted a letter voicing his opposition to any changes to the roofline at the location. Mayor Torgerson addressed Korejwo, present in chambers, stating that the southeast portion of the roof was the area in question, and that it would not affect the northwest side.
Temporary Use Permits
Council gave initial approval for TUP 22-03 for 1460 7th Ave proposing a temporary residential structure.
Council gave initial approval for TUP 22-04 for 1915 Cranberry Place proposing a temporary residential structure.
Council gave initial approval for TUP 22-05 for 1122 8th Ave proposing a temporary residential structure.
Zoning conflict
Council moved to receive correspondence from Tomcat Enterprises. The letter, written by Claudia Frost on February 25, 2022 expressed concern that the zoning for 1455 5th Ave in Valemount had been changed without notice to the property owners, Tomcat Enterprises Ltd, or its Director, to C2 from C4- Highway Commercial with permitted use of Service Station. The site has been operated or leased as an automotive service and repair facility and a towing operation. Since COVID, they have not been open to customers therefore have not had a business license. Recently, the site has been rented and the tenant has applied for a business license. During the process, it was noted that the zoning does not allow for this sort of business.
After a meeting with Village Planner Krista Etty, it was discovered that although the use of automotive repair shop is defined in the new zoning bylaw created in August 2021, it was not added to any zone.
Administration is working to remedy the situation and once proper zoning is decided on, an amendment will have to be passed. This process can take 8-12 weeks.
Business license delay
Council moved to accept the report to Council for information regarding the business license application from automotive and equipment repair business, Crane Power to use the property at 1455 5th Ave. A report from administration states that either a temporary use permit or a zoning amendment is necessary before the business license can be issued. The recommendation is that the application remain "pending" until the zoning can be amended.
Bylaws
Council gave the Village of Valemount Five Year Financial Plan Bylaw No. 857, 2022 first and second reading. The 18 items addressed in the council report from the March 8 meeting were all included in the plan.
Public Comment
Claudia Frost expressed her disappointment that Tomcat Enterprises was not informed of the zoning change. She stated that this resulted in a business license application being denied, and a tenant told to cease operations. She also expressed that she was puzzled as to why the zoning bylaw public hearing was held at the busiest time of year (July 27, 2021). Through this experience, she does not feel that the website declaration, "A village office that is here to help" has been her experience as of late. She is requesting that the C4 Highway commercial zoning of the property be reinstated immediately, and that automotive repair gets added to the C4 zone.
Rashmi Narayan commented about COVID restrictions correspondence. She requested that council rethink the regulation regarding the requirement that committee members and village staff be fully vaccinated. This requirement has resulted in people leaving committees and she feels it would be good to revisit the policy in a few months.
In Camera
Council moved to proceed to an in-camera meeting for consideration for four items per Section 90 (1) in the Community Charter to discuss matters relations to (a) personal information about an identifiable individual who holds or is being considered for a position as an officer, employee or agent of the municipality or another position appointed by the municipality, (i) the receipt of advice that is subject to solicitor-client privilege including communications necessary for that purpose, (k) negotiations and related discussions respecting the proposed provision of a municipal service that are at their preliminary stages and that in the view of the council, could reasonably be expected to harm the interests of the municipality if they were held in public.