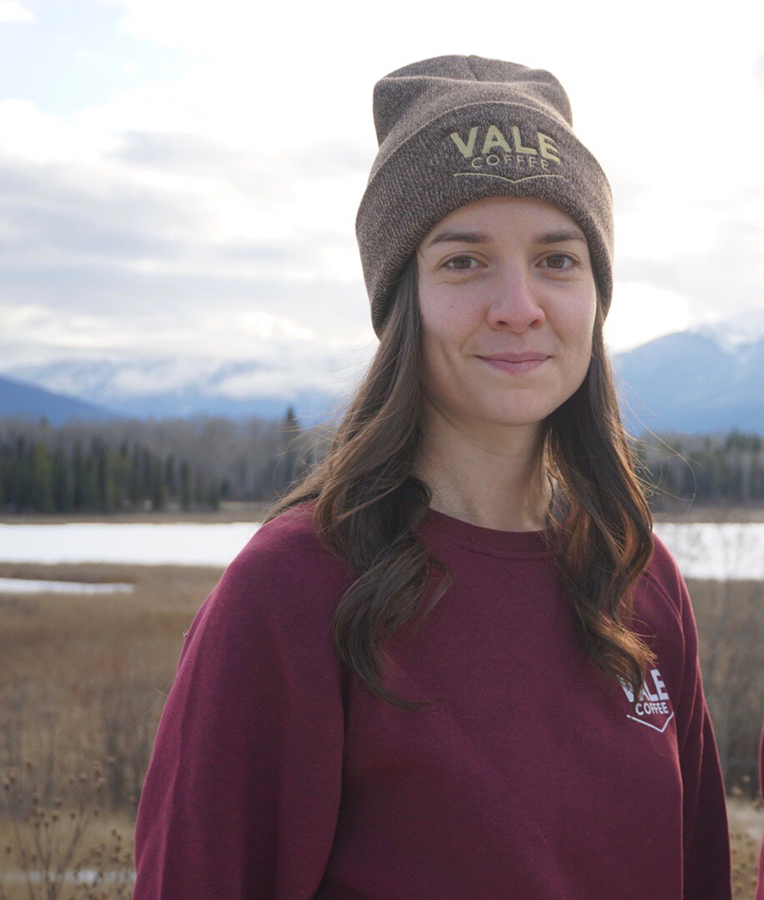 By Andru McCracken
Imagine leaving a secure, comfortable job in local government in the midst of a global pandemic that has upset the economic order of everything to follow your passion. That's just what Megan Vicente has done.
Vicente was the Village of Valemount's first full time planner, having worked her way up from a position at the front desk.
Vicente is the first of four business partners of VALE Coffee to leave their full-time job, and the security it can bring, to work at the burgeoning coffee roaster and cafe full-time.
"This has been my goal and dream my whole adult life. I have been a government employee since I was 18 years old. I am more than ready to take on a new challenge and use the skills I have learned from government to make a new successful business," said Vicente.
VALE Coffee is the brainchild of two couples, Megan Vicente and Elliott Ingles and new parents Ryker Indijc and Rena O'Brien.
Their cafe and roastery is located in the Trading Post on Valemount's Main Street.
"We've been working on making VALE Coffee into a viable business for a couple years now," said Vicente.
"We always wanted to start with the roasting and perfect that, and expand the cafe and coffee service side of things," she said.
Growing a business in the midst of the third wave of a global pandemic may not seem like the best timing, but Vicente explained they don't know any different… and what they are doing is working.
"We have constantly surpassed our expectations. We have cautiously and carefully built this company. If we had to shut down [cafe operations] because of COVID for a month or two, we have our coffee roasting that doesn't rely on in person service."
"We are almost a year out from when we started selling coffee last year. We are feeling ready to start some food services and that kind of thing. To execute that, we are ready to have some of us dedicate our full time attention to that. I'm the first one to make the leap and focus on all things VALE Coffee," she said.
Up until recently the coffee shop was open for a few hours on Saturday morning and briefly on Thursday afternoons where they paired up with Dunster based sourdough genius baker Yann Assemat (Roots n' Thyme). Now they are open three days a week, Friday through Sunday from 7 am until 2 pm and they plan to be open on Mondays that fall on a holiday.
"We are really focussing on quality coffee number one and delicious, exciting food options. We're finding our own niche and it really seems like there is some momentum in this town," she said.
As if operating a coffee roasting business and a cafe weren't enough, the business partners have another trick up their sleeve: a mobile coffee cart that will serve the Valemount Bike Park.
"We've been working on it for forever; it looks promising," she said.
Vicente's skills in government will no doubt help her navigate the complex world of licensing for mobile vendors in the regional district.
The Village of Valemount released a press release on Vicente's departure celebrating her achievements there.
"The Village regrets to be saying farewell to its current Planner, Megan Vicente. Megan has performed admirably as the Village's first dedicated Planner, and over the course of her tenure has helped move the Village's development services forward in a positive direction," said Chief Administrative Officer Wayne Robinson.
Krista Etty, currently responsible for grant writing, village communications and assistant to the planner, will take on the planner role.