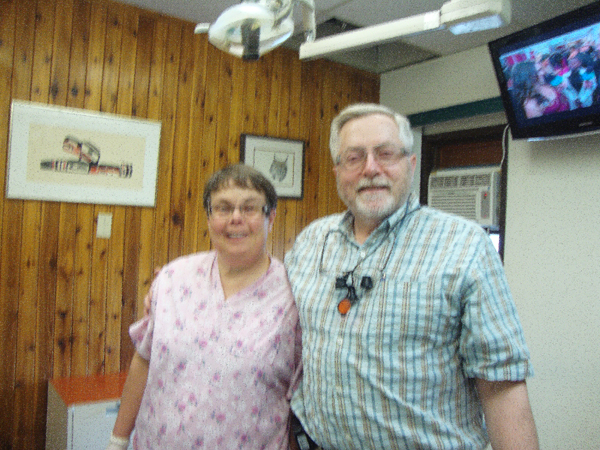 By: Frank Green
Beware of candy.
McBride has lost its lone dentist. Mike Moseley is hanging up his drill after some three decades of caring for the village's teeth. When he closed up shop last week, Moseley said he still had 1,000 patients who'd come in at least once in the past year, and 800 more "inactive charts," people who had visited him in previous years.
Moseley said he tried not to leave anyone in the lurch by making a point of not starting any major work several weeks ago.
Moseley came to McBride in 1980 with a traveling dentist program that brought him to a number of tiny towns in British Columbia.
"It was a sense of adventure," said Moseley, who is from Oakville, Ontario. "We set up in libraries, in gymnasiums."
His first office in the village was in what's now the library annex, where he had to drill holes to set up the plumbing and electricity before he could get to work.
He had arrived in a boomtown full of people with great dental plans.
When mills closed and jobs left, so did the health coverage and a chunk of his business.
"It's a lot of money for people," said Moseley, who brushes his teeth every time he eats and has four different kinds of toothpaste. "Half the population doesn't see a dentist," he adds.
Moseley said he thinks he'll be remembered as a "goofball," a quality borne of both his temperament and studied strategy. He invited people to bring their siblings into the room when they got work done, or even their dog.
Ross Partington, a friend and former patient of Moseley's, explained how Moseley had a TV right in the operating room, with lots of videos, to help "put the kids at ease." Partington's daughter Jennifer, who got her teeth straightened with Moseley, liked to watch the Teenage Mutant Ninja Turtles when she was in the chair.
"He had a very good way," Partington said of Moseley.
"A dentists has to do nasty things to nice people," Moseley said. "A relaxed patient is a good patient."
Now 65, Moseley said it was time to do other things. He became a real estate agent a couple years ago, though never started the work in earnest while he still had his practice.
He hopes his first sale will be his old office – to another dentist.