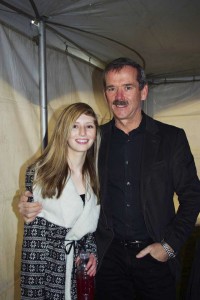 By: Laura Keil
Valemount's Clara Burstrom got the chance of a lifetime to meet famous Canadian astronaut Chris Hadfield at Jasper's Dark Skies Festival last week. Burstrom co-wrote and sang a song called Dark Skies which was written specifically for the festival. Burstrom's mom Michelle, who co-wrote the song, says Hadfield listened to the song in the Telus World of Science tent while signing autographs. After Clara finished singing, Hadfield took a break from signing autographs and requested to meet Clara. He complimented her on the song and her singing and told her she did a good job, Michelle says.
"He was really supportive," Michelle says.
The song has not yet been recorded, but they are working on doing so. Below are the song's lyrics.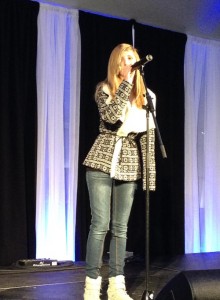 Dark Skies
When the sun sets
And the day light haze
Turns to purple midnight grays
I could loose myself
In the brilliance of the stars
As the world sleeps
I am drawn outside
To watch the show that is heavens pride
A celestial dance
Like fireflies caught in jars
CHORUS
Beneath the dark skies our world spins
As eternity pulls us along
Like timeless travellers
We search with our eyes
Held in rapture under the dark skies
The wonder of the northern lights
Or a comet streaking through the night
Glues my heart
To the ceiling of our world
BRIDGE. A symphony of radiance dances above our heads
CHORUS