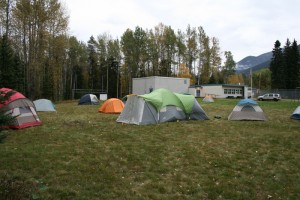 Photo and caption: Chuck McNaughton
Last week, the Dunster Fine Arts School played host to Grade 7 students of Cedar Christian School in Prince George for their annual wilderness camping trip. Activities were held inside & outside the school, including sing-a-longs around the campfire for two nights, and a hike to Kinney Lake on Thursday, Sept. 25th.
McBride resident Lyle Kinnee was thrilled to be invited to spend some time around the bonfire Wednesday night with his grandson, one of the students from Cedar Christian.