by Andrea Arnold
---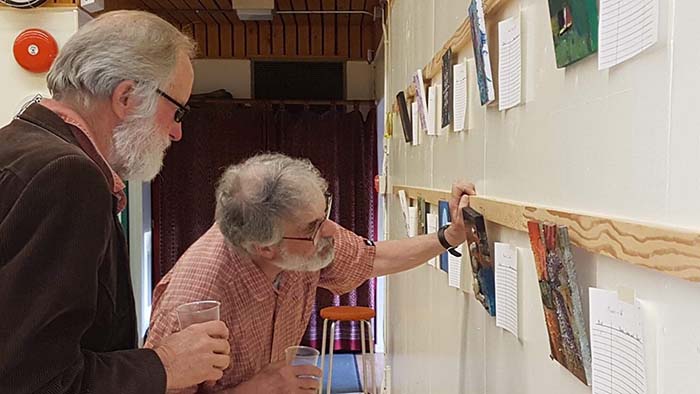 The Dunster Fine Arts School Society will be hosting its annual 8×8 auction on Mother's Day weekend. The event will coincide with the annual Dunster yard sale and BBQ, giving people a few reasons come out.
The 8"x8" auction is open to everyone and any medium is accepted. Chair of the DFASS,  Katharina McNaughton says artists are welcome to submit any of the following, "Block print, collage, photography, leatherwork, metals, woodwork, macrame, embroidery, glassware, mosaic, watercolours, acrylics, sculpture, quilting, mixed-media, weaving, paper arts, typography, diorama charcoals, pastels, felting, ceramics, stonework…you choose your medium! The only rule is that it's 8"x 8" and ready to hang."
If people want to use wood, there are 8"x8" pieces available at the Dunster Store and the McBride Public Library. "We are asking for a $2 donation for each piece," said McNaughton." If you have your own 8"x8" medium that you prefer, that is great as well."
"We have so many talented artists in this valley," said McNaughton. "We want to encourage all artists to participate and also to encourage or inspire budding new artists."  Names of the artists will not be displayed with the pieces however, letting the art work speak for itself. On the Friday evening, there will be a free wine and cheese event for the artists where they will have an opportunity to win a gift card for art supplies.
The deadline for submissions is Thursday May 9, 2019. They will be hung at the Dunster Fine Arts School Society over the weekend. Bidding will be open until 1:00pm Sunday May 12th.
Proceeds will benefit the Dunster Fine Art School Society, and go towards providing more programming for the community. The DFASS mandate is to honour the history of the area by creating a place where people of all ages can engage in learning through a wide range of activities and events, while embracing our rural community, "said McNaughton. "Our continued work at DFASS is based on shared values of community, sense of place, inclusion, cooperation and learning."
Also on display in the school will be a display of art created by Sasha Scott's art class of Seniors and Friends on Sunday from 10am-2pm. These items will be on display only, not part of the auction.
The garage sale on May 12, 2019, hosted by Claude Hill and Ken McNaughton, will be held on the lot next to the store.  Sales or trades take place from tables, tailgates and trunks. If tables are needed, sellers need to bring their own. Customers will have a selection of household goods, tools and plants to choose from. Through the duration of the garage sale, There will be a concession available, hosted by the Dunster Station Museum committee.