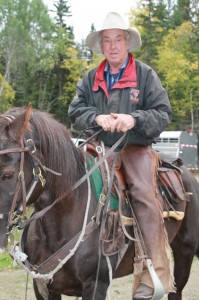 By: Chris Parker
I continue to be mesmerized by the incredible citizenry that comes to share our valley and provide support, encouragement and their gifts with our communities. Over the last three years it has been our privilege to bring our readers the stories of some of these individuals, often little known and quiet leaders who, through their giftedness, bless and enrich the beautiful valley we call home.
One such individual, Brian Wallace, started on his journey to the McBride area from Wilkie, Saskatchewan, coming west to attend the Northern Alberta Institute of Technology's forestry program. Academics for the program are done at the Edmonton campus, and then field training and work with animals, part of the training all Park Wardens have to go through, happens at the Forestry School Field Branch in Hinton. After a fortunate introduction he was able to achieve his goal to become a warden in the national park ranger program. There he was mentored by individuals with long and deep memories of the parks – their trails and challenges. They also passed on their knowledge of how to stay out of trouble while providing service to visitors and campers in the National Parks. Working principally in Jasper with a short stint in Elk Island National Park east of Edmonton, Wallace served from 1969 to 2005. He can tell you about mentoring others, and about relocating elk from Jasper town site when overpopulation became problematic; certainly he can tell you about the Maligne Skyline trail, the trail from Poboktan Creek to Camp Parker, and Tonquin Valley high and low trails amongst many others – in incredible detail.
During his lengthy Park Warden career, Brian purchased his 147-acre ranch off Hinkleman Road that now includes his home, barn, corrals and pasture land. It is here that he built up his string of nine horses and pack animals which allows him to continue to practice his love of the outdoors and trail riding, and continue his work on trails and mentoring of youngsters, local ranchers, and those with a developing interest in the hobby.
This a continuation of the well-learned lessons developed during his Park Warden career. It is his fervent belief that one of his tasks is to pay it forward through an extension of his own mentorship program, to enable others to have similar experiences of the Canadian wilderness. He speaks passionately of the necessary cooperation between horsemen, hikers and mountain bikers to develop and maintain the trails in our area and educate people on the skills and care that is required.
In addition to working on the trails, Wallace and his friends are working on a provincial government project to help build a new program that will use maps, GPS coordinates and photographs to allow visitors and residents alike to use the valley in a safe and more responsible way.
Along with several others including Mellany Ford, Wallace started the Robson Valley Chapter of the Back Country Horseman of BC in 2009, which has grown to 40 members. The major annual fundraiser for the group is a popular Poker Ride which recently saw 69 horse-and-rider teams participate. In addition to the work on the trails and bridges on the various routes, the group has erected trailhead kiosks and are busy encouraging locals to offer "Bed and Bale" programs (such as at Scarecrow B&B) which will increase tourism and use of the trails. Wallace and his group continue to encourage younger riders and others across the province to appreciate and explore the Robson Valley. Wallace is also the provincial Chair for the Back Country Horsemen of BC, now over 800 members strong.
Wallace and his partner Eileen, an avid outdoorswomen herself, are also active in the McBride tourism committee. Eileen is currently en route to Nepal for a month-long hiking and climbing excursion. An avid photography buff, one can only imagine the spectacular shots she will have to share on her return, towards the end of October. The couple has four adult children, one of whom is a three-time winner and the current champion of a 1000km race in Mongolia.
Even on the blustery afternoon of our visit, Brian, Eileen and a friend were off for a trail ride and to take down the signage on the route recently used for the Poker Ride – one more example of dedicated volunteers who have grown to love our valley and are happy to share their gifts and talents with others to expand its use in an appropriate way.