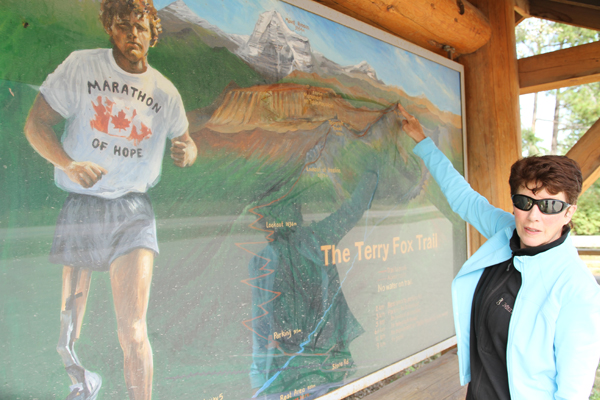 By: Korie Marshall
September 14 is Terry Fox Run day, and if you are in Valemount this weekend, you have a couple options to celebrate it and remember a young man and his battle against cancer.
On Saturday, September 13, you can meet a group at the Terry Fox rest stop on Highway 5 to give the Mount Terry Fox Hike a try. The hike is being organized by Yellowhead Outdoor Recreation Association member Patricia Thoni, who says the hike can take at least 12 hours round-trip, if you take a couple of breaks. Thoni says she thought about canceling the hike because only three or four people usually come out, but she got a call from someone in Edmonton who really wants to do the hike this year. If you are interested, meet the group at the pullout at 7:30 am Saturday.
Earlier this summer a local environmental group was upset the lower part of the trail had been logged. Thoni says she thinks the trail should have a higher profile and more use, but she thinks part of the problem is the difficulty of getting to the summit and the monument to Fox.
Barb Zimmer, vice-president of the Fraser Headwaters Alliance, says getting to the top doesn't have to be the only goal, and the choice of the difficult ascent is a fitting tribute to Fox and his fighting spirit.
The other option is a walk, wheel, ride or run around the Big Foot Trail on Sunday, Terry Fox Run day. Meet at Centennial Park playground on 5th Avenue at 1:00 pm. Thoni says snacks and refreshments will follow at the playground, compliments of Caribou Grill.
Terry Fox is a household name around the world, remembered for his journey across Canada on an artificial leg to
raise money for cancer research. He'd run close to a marathon a day for 143 days, starting in St John's, Newfoundland, eventually stopping in Ontario when the cancer came back. He died in 1981, just one month short of his 23rd birthday, but the Terry Fox Foundation continues his legacy.
Pledges can be made at either event, or at the Caribou Grill. Call 250-566-8244 for more information.