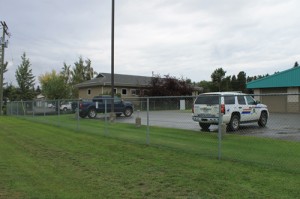 The Valemount RCMP are hoping to build a new three-bay garage on the property at 1435 5th Ave for storage of off-road equipment, specifically ATVs and snowmobiles.
"Our policy is not to store any combustible material in buildings where employees are working and prisoners are housed," says Sergeant Darren Woroshelo. "The new garage will allow us to be compliant with policy and give us updated security features."
Woroshelo says the current storage bays attached to the station are too small for storing the off-road vehicles, and will be used for additional file storage and exhibit space. Exhibits are items that have been seized as a result of an investigation, and can range from small pocket-sized items to things like bicycles and firearms.
The property management contractor in charge of the project has applied for a Development Variance Permit to place the structure closer to the property lines than is normally allowed under the Zoning bylaw, and for a Development Permit, as the property is part of the Highway Entry and Highway Corridor Development Permit Area defined in the Official Community Plan. The RCMP station is currently zoned P2 – Public Utilities and Services, and the minimum setback from all parcel lines, according to the Zoning bylaw, should be six meters (just under 20 feet). Design guidelines for the Development Permit Area are not strict rules, but the Development Permit allows Council to consider the design of the building, since its location forms part of the initial impression of Valemount to travellers.
The drawings submitted with the applications show the building will be located at the southwest corner of the property, abutting the Valemount Health Centre property. The drawings show two existing parking stalls would be removed and the asphalt would be extended to the concrete slab of the garage, offering access to the garage doors as well as continued access through the existing driveway. They show the garage placed six feet (approximately 1.8 meters) away from the 6th Avenue parcel line, and eight feet (approximately 2.4 meters) away from the parcel line to the west, bordering the clinic.
Project manager Nick Yarmie told the Goat he doesn't feel there will be any issues with the setbacks, since there is a large setback already between 6th Ave and the property line.
Council expressed no concerns, and agreed at the August 28th regular council meeting to draft a permit and notify the public, to see if anyone else in the community has concerns with the plan. Both the Development Variance Permit and the Development Permit were scheduled to be considered at the September 10 Council meeting.
The property is managed by Brookfield Johnson Controls Workplace Solutions Inc. (WSI), who is under contract with Shared Services BC for property and construction project management.