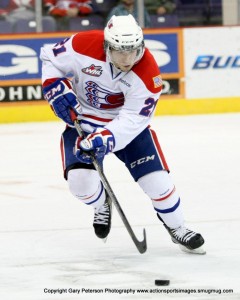 Long-time McBride residents no doubt remember Dylan Walchuk playing on the McBride Grizzlies.
Last week they would have had to blink a few times to realize it was the same boy donning a Team Canada jersey with the best NHL players in the country, at the men's Olympic team orientation camp. Just two weeks after joining the University of Calgary Dinos, Walchuk's coach phoned him up with a question every aspiring pro player wants to hear: Team Canada is short-handed – can you fill in?
The 21-year-old landed on a line with Edmonton Oilers star Taylor Hall and Carolina Hurricanes forward Jordan Staal. He said it was "like a dream come true."
"Just looking around in the room and seeing every star from every NHL team — wow. I was in awe, basically," he was quoted in the Calgary Sun.
After the game, Walchuk found himself surrounded by a media scrum of nine reporters. They had stormed onto the arena floor after practice was over.
In front of him was someone he had long seen on TV – Jermain Franklin, TSN's Calgary correspondent.
"I was trying to give him funny answers so I'd get on TV," Walchuk said in an interview with the Goat.
He was not sure, a week later, whether his plan had succeeded. Having graduated from the junior league after turning 21, Walchuk recently joined the Calgary Dinos team. He is starting his first year studying business and aspires to play in the NHL.
Can you blame him for wanting to be seen on TV dropping the ball to the Oilers' Taylor Hall? Going in for a shot on net? Handling a pass from Carolina Hurricanes' Jordan Staal with aplomb?
Walchuk had shown up an hour early to the arena – not an ice arena but a ball hockey arena. The cost of insuring the players against injuries incurred on ice was too high, so the coach decided ball hockey would substitute.
Not only did Walchuk successfully fill in for a more experienced player – he also did so on the international-size arena where the team was practicing for the Sochi Olympics next February. The rink they play on in Russia is 200-by-100-feet, which is 15 feet wider than NHL ice. It means faster players who know how to move the puck have a slight advantage.
The team staff gave Walchuk his gear – shoes, jersey, stick etc – and led him to his dressing room stall.
Walchuk had scored the opportunity to play at the camp by impressing Olympic team coach Mike Babcock at a run-through at the arena the week before. Babcock and the other coaching staff had wanted to get a feel for the arena before they brought the orientation team here and invited the Calgary Dinos for a run-through. Walchuk had stood out, and a week later, Babcock phoned his coach to ask if he was available to fill in for a missing player.
Now, Walchuk was sitting in a dressing room stall between Sidney Crosby and Brad Marchand. He says Crosby was one of the first people to introduce himself to him.
Walchuk says he felt nervous, but the other players were "pretty easy to get along with."
"The best part was just hanging out in the (dressing) room with them," he says. "Just seeing the atmosphere and how they act in the room. It was more professional. You could tell they were all focused."
They didn't play much hockey, or rather ball hockey, and most of the drills they did he already knew. But what did rub off was "how to act like a pro."
Over the past five years Walchuk has been refining his skills in BC, Michigan, Washington and now in Calgary, Alberta. He played for three seasons with the Vernon Vipers, then one season with Northern Michigan University, two with the Spokane Chiefs, and now with the University of Calgary Dinos.
Last year with the Spokane Chiefs, Walchuk, 5'9 and 170 pounds, played 70 games, scored 19 goals and had 58 points total.
Walchuk already had a hockey stick retired to the Hockey Hall of Fame when he scored the winning goal for the Vernon Vipers during the RBC Cup rookie all-star game in Winnipeg during the 2009-2010 season. At age 16 and 17, he led the entire league in points and was rookie of the year.
"I think his mother met Wayne Gretzky one time," his dad Stan Walchuk told the Goat in 2010. "I'm not sure where he gets it."
While the invite to be part of the orientation camp does not mean Walchuk will make the Olympic team that plays in Sochi in February, he said he'll be taking away a lot from the more experienced players.
He got to keep all the gear, which his parents took home with them to McBride.
"I don't think I'll ever want to use the shoes again, or the stick. They're pretty nice. Don't want to wreck them."
He says he has received lots of texts and calls from people in McBride saying "Congrats" and other words of encouragement.
"It's great to have that support from everyone at home."