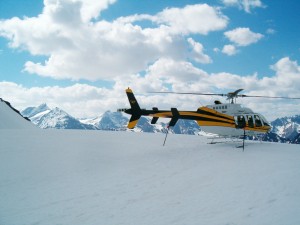 Mike Wiegele Helicopter Skiing and Yellowhead Helicopters Ltd have announced a new five year partnership. Yellowhead Helicopters, based in Valemount, will now be providing the charter service for Mike Wiegele's helicopter skiing program in Blue River, BC.
A press release from Mike Wiegele says the service provided by Yellowhead Helicopters, including machines, pilots, and maintenance crew, will remain at the same industry-leading quality as it was with the previous carrier Vancouver Island Helicopters (VIH). The fleet will continue to consist of the Bell 212, AStar AS350 B2, and the Bell 407. Yellowhead Helicopters bought most of VIH's small craft last winter.
"Fourty-three years ago," says Mike Wiegele, Founder and Chairman of Mike Wiegele Helicopter Skiing, "Garry and I worked together to develop helicopter assisted skiing. Today, I am proud to recognize the growth of both of our businesses and to be working together once again. Together we have created over 250 full time jobs in Blue River and given many of our guests the 'best day' of their lives."
Both companies have extensive years of service and experience in their industries with Mike Wiegele Helicopter Skiing being established in 1970 and Yellowhead Helicopters being established in 1975.
By: Korie Marshall