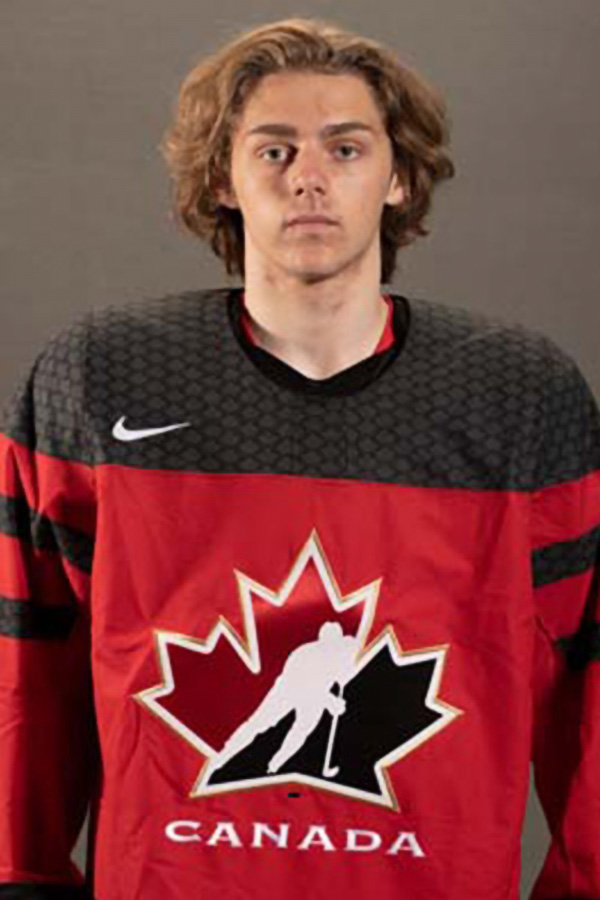 By Andrea Arnold
Hockey fans in McBride had an extra reason to tune in to the U18 World Juniors 2022 Hlinka Gretzky Cup at the start of the month, and celebrate their gold. Player #6 in the red and black was a true blue McBride kid, with family roots that run deep. Now 17, Tanner Molendyk first laced up his skates at the Robson Valley Recreation Centre about 15 years ago and has never looked back.
"I think the biggest thing that keeps me playing is meeting all those new people, and being able to forget about everything and just play the sport I love," said Molendyk
A defensive player who does everything to prevent goals while taking every opportunity to score, Molendyk finished the tournament ranked 29th on the scorers list with one goal, three assists and no penalty minutes. Overall, Team Canada scored a total of 34 goals over five games and allowed only three pucks to slip past their defensive line and goalie.
"Hoisting the cup in Red Deer was something I will never forget," said Molendyk. "It's honestly still hard to put into words how cool that experience was, and how special it was to wear and represent the maple leaf."
Following the tournament, Molendyk couldn't help but think about how many great people there are throughout Hockey Canada helping the younger players. He also reflected on the support he and the other players felt from fans, and most of all, family.
For the last two year, Molendyk has played for the Saskatoon Blades. He was a first round pick for the team in the 2020 WHL Bantam draft. This past season he earned 18 points in 55 regular season games, and three assists during playoffs. He earned a spot on the Team Canada U-17 team and came home from the 2021 Capital City Challenge sporting a gold medal.
He plans to return to Saskatoon at the end of August and begin his third year with the Blades. He will also be resuming his highschool studies.
The way school is set up through the Blades organization is really great," said Molendyk. They have it structured so that there is a focus on hockey but players are given time to work on school, and stay caught up with assignments even when they are on the road.