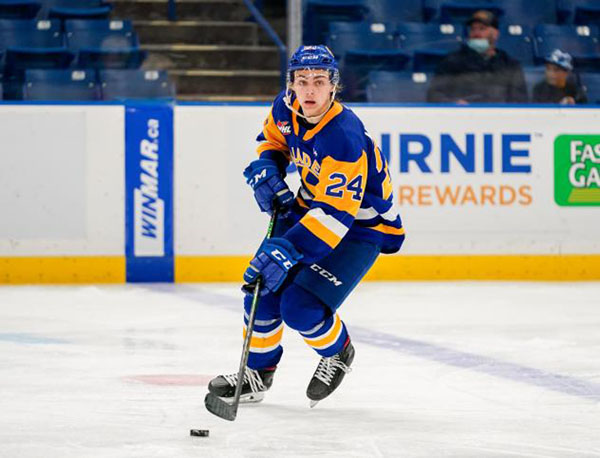 By Andrea Arnold
The 2022/23 season is developing into an exciting one for Western Hockey League player Tanner Molendyk, who hails originally from McBride.
The 17-year old was one of 40 hockey players selected for the 2023 Kubota Canada CHL/NHL Top Prospects Game to be held on Jan 25 at the Langley Events Centre.
"I feel really honoured and proud to be selected to play in the top prospects game this year," said Molendyk. "It's a great opportunity to be able to go play with this group of guys and to be able to showcase what I can do."
The top prospects game was re-introduced in 1996. Since then, 15 players in the game have gone on to be selected first overall in the NHL Draft. The players for the game are chosen following a survey conducted with NHL teams.
Molendyk, a defenseman, was a first round pick for the Saskatoon Blades in the Western Hockey League three years ago. He has played in 34 games this regular season, scoring four goals and assisting on 18.
Molendyk does not plan to do anything different or special in preparation for the upcoming game.
"I am going into it thinking of it just as any other game and making sure I prepare the right way," he said.
Blades Head Coach Brennan Sonne reported on the team website that Molendyk's skating ability and speed is notable, and continues to improve. Sonne has also been impressed at Molendyk's ability to play the right side, as Molendyk is a left-handed player.
In the past few years, Molendyk has seen an increase in playing time for teams other than his WHL Blades lineup. In August 2022 Molendyk was a part of the gold medal team at the Hlinka/Gretzky Cup in Red Deer. He also helped Team Canada Black U17 bring home the gold in overtime at the Capital City Challenge in 2021.
Following this WHL season, Molendyk and all those close to him are awaiting the 2023 NHL Draft at the end of June. Sportsnet listed Molendyk as one of the "Top 10 WHL players to watch for 2023 NHL Draft." Listed at #6, they call him a 'mobile defenceman who has an eye for creating offence. Plays with more bite than your typical offensive-minded d-man.'
Another site, NHL Entry Draft, has listed Molendyk as #21 in the NHL Draft Rankings for 2023. This puts him in the position of the first WHL defenseman in the lineup.
Tickets for the Top Prospects Game are almost sold out. They are available online, by phone 604-882-8800 and in person at the Langley Events Centre. Players will be divided into two teams, red and white, closer to game day.
Those interested in seeing Molendyk in action at The Top Prospects game can watch it live on TSN, TSN.ca, the TSN App and RDS on Wednesday Jan. 25 at 7:00pm pacific time.