This slideshow requires JavaScript.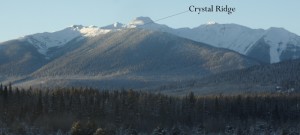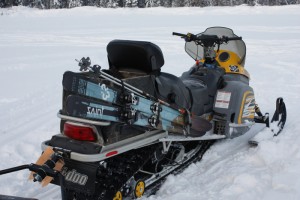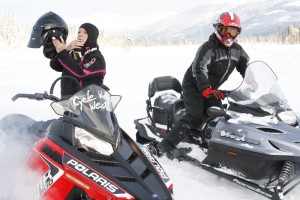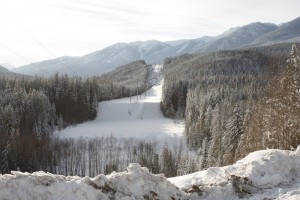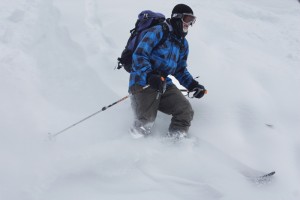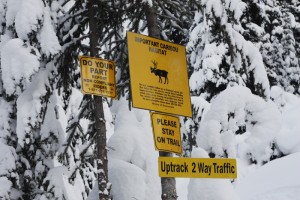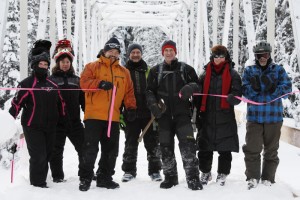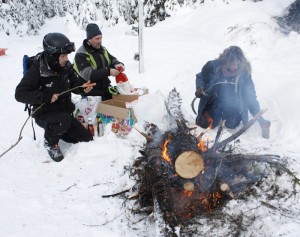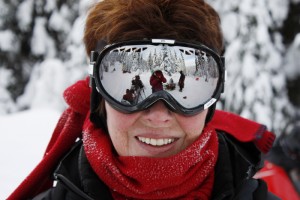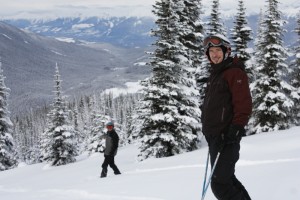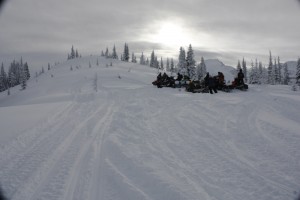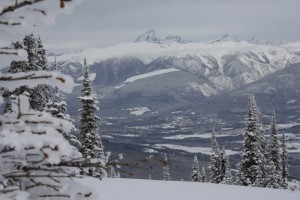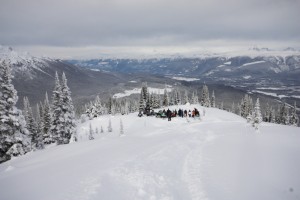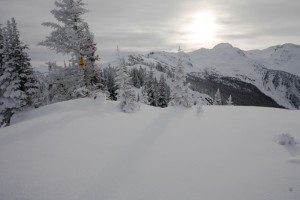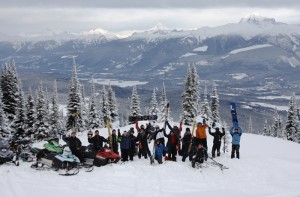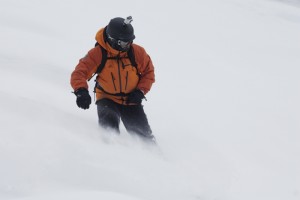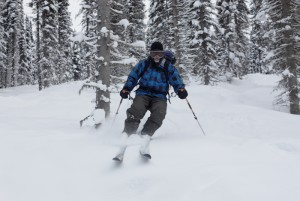 Valemount's first ski hill is open!
After three years of planning and development, The Valemount Area Recreation Development Association (VARDA) officially opened Crystal Ridge on Jan. 12th, a one-of-a-kind facility dedicated to snowmobile-assisted skiing and snowboarding located on a shoulder of Mt. Diefenbaker.
What is snowmobile-assisted skiing you ask?
Instead of using a chair lift, skiiers and boarders reach the top of the ridge using a snowmobile on a separate track. The snowmobile itself does not leave the uptrack – it's used solely as transportation up and down the hill. While the rest ski down, one member of each group meets them at the bottom of the run with the snowmobile. Then they shuttle back up approx. 2km of steep terrain and someone else takes a turn as valet.
Users must bring their own snowmobile, but there is no charge to use the hill – VARDA has simply provided access to four gladed runs more than 2,000 vertical feet each. The four completed ski runs on Mt. Diefenbaker are intermediate to advanced in difficulty.
At the top of the ridge is also a fabulous 360 degree view of three mountain ranges. On clear days, Mt. Robson and Whitehorn jut up in the distance beyond Valemount.
At the grand opening on Saturday, several locals came out to the hill, as well as three men from Alberta and Saskatchewan who wanted to try out the hill for the first time. The guys said they had been to Valemount numerous times over the past seven years to snowmobile. They had even bought a cabin to use while they're here. But they had originally bought their snowmobiles in order to access good ski and board areas. They said Crystal Ridge allows them to get back to their original purpose.
At the bottom of their first run, they exclaimed how great it was.
Crystal Ridge was categorized as a "Power boarding" destination, at the request of a local group known as the Power Boarders Backcountry Association, in a planning document called the Valemount to Blue River Sustainable Resource Management Plan that was created in 2004.
"We had the dream and VARDA took it and ran with it," says Colin Wied, one of the original members of the Power Boarders Backcountry Association, who was present at the opening on Saturday.
Wied, along with the VARDA GM and board of directors, cut the tape at the bridge crossing the Canoe River, which allows public access to the hill.
The bridge was assembled by local contractors and volunteers, and relied on donations of equipment such as a crane by Lakes District Maintenance.
The lion's share of the funding for the project has come from CBT, but VARDA has also received money from Yellowhead Helicopters and the Vegreville Snow Chasers snowmobile club. No municipal money funded the project.
It takes about 20 minutes to get to the bottom of the hill, which is 14 km from the Westridge parking lot, located just of Hwy 5 south of Valemount.
In addition to being relatively accessible with a parking lot and groomed trail, Pawliuk says one draw for tourists is that Crystal Ridge is unique.
"There are no sled-assisted ski hills," says Curtis Pawliuk, general manager of VARDA who has managed the project. "This is the first of its kind."
Pawliuk says sled-skiing is growing in popularity. With so many snowmobilers already coming to the Valley, it makes sense to improve the range of activities they can do.
"Sled-skiing is becoming a very, very quickly growing segment of our industry," says Pawliuk. "A lot of sledders are bringing their skis but often they don't have a good place to go."
He says it will help increase night stays and visitors to Valemount. But it's also a hit with locals.
A warming cabin, additional runs and possibly a toboggan hill for kids are all things that may be included in future phases of the project. The group already has permission to cut two additional runs, bringing the total to six, if they can get more funding.