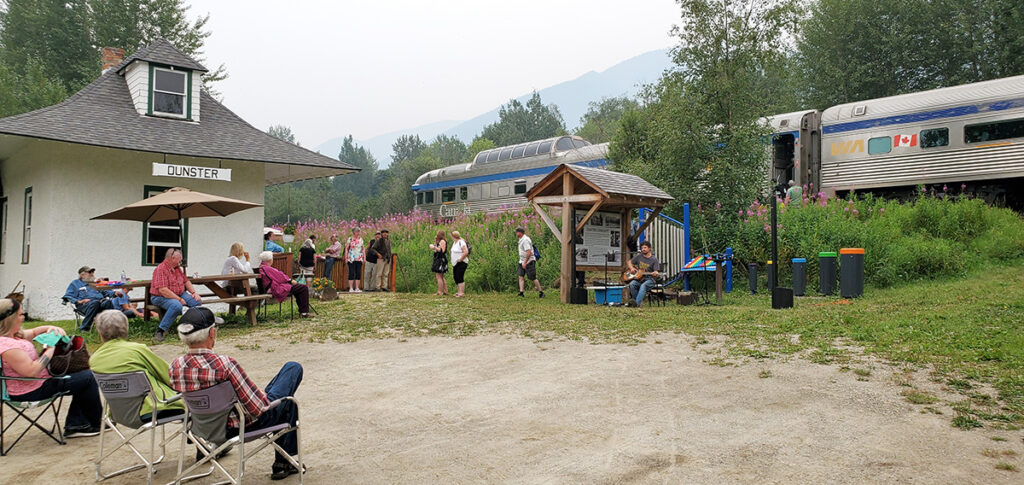 By Andrea Arnold
The Dunster Station Museum, located at 8285 Dunster-Croydon Road, had its 2021 grand opening celebration on Sunday Aug. 1st. Several local artists provided music while event goers enjoyed snacks, got glitter tattoos and checked out the museum and met Pedro Garcia Conde, the new museum host.
Garcia Conde, a newcomer to the valley, is thrilled to be a part of sharing the 113 years of history with those who pass through the doors.
"In order to be human you have to share," said Garcia Conde. "Or you lose the ability to be human. Each one of these things (artifacts) has a history. If we lose the history we lose the link to those behind us."
He has ideas for getting people more involved through activities at the museum, such as tournaments in scrabble, cribbage, bridge and chess. Also, he is working on a plan to reach the young people of the valley through a partnership between the museums in the area.
The station is one of only three remaining stations of its kind left in BC and is still used as a stop for passenger trains.
Mid-event on Sunday, the VIA passenger train stopped and approximately 30 people disembarked and took the opportunity to check out the station and its stories before boarding a bus back to Jasper.
The second floor of the building has been preserved as it would have been when the station master and his family lived there. The first floor has a variety of rooms that contain photos and artifacts that illustrate what has been daily life for those living in the community of Dunster. Also on the main floor is a small gift shop with locally made items as well as more specific souvenirs.
For Garcia Conde, it is the true spirit of community that brought his family to the area. They bought a property sight unseen because of people talking about how amazing the community is. He wants to be able to share this with visitors as well. He loves the opportunity to tell stories that illustrate how amazing the community has been and continues to be.
"They pay me to be here," he said. "But they wouldn't have to."
The Dunster Station Museum is open 12-4pm Wednesday, and Friday-Sunday from now until September 29, 2021. Admission is free or by donation.