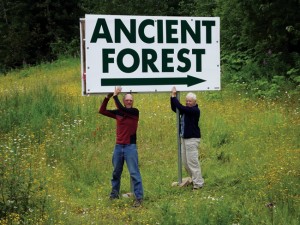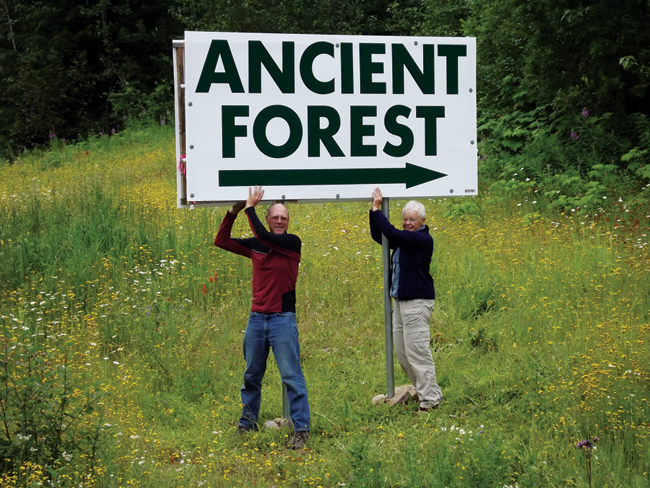 I was delighted to see the wonderful boardwalks, signs and bathrooms at the Ancient Forest near Dome Creek when I was there last weekend. It's an incredible place in the Robson Valley that deserves visitors – unfortunately for the 1000-year-old trees, visitors stomping on their roots isn't good.
While many boardwalks are in place, there's still a long way to go.
Luckily, several groups, notably the Caledonia Ramblers Hiking club out of Prince George has taken on the task of improving and expanding boardwalks to make it wheelchair accessible as well as to protect the forest. Close to 4,000 hours of volunteer time has gone into this latest endeavour as well as thousands of dollars of cash and in-kind contributions.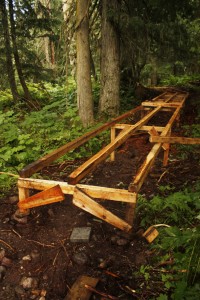 The third and final phase of the Universal Boardwalk has seen 60 meters of boardwalk foundation and most of the 26 foot span bridge constructed. The goal is to build the remaining 336 meters of boardwalk for a total of 456 meters by Thanksgiving this year.
The Interior Hemlock-Cedar forest, is the furthest inland temperate rain forest in the world. It boasts trees that are 1,000 possibly 2,000 years old.
In the 2006-07 season, about 6,000 people visited the forest. The following year it increased to 8,000. Over the '08-'09 season, 75 people a day took in the trail.
The boardwalk will help protect the roots of the cedars. Much of the Ancient Forest trail is not yet boardwalk.
The forest is just off highway 16 near the Slim Creek rest stop, about an hour's drive from McBride and Prince George. The club has installed a larger temporary sign – 4 feet by 8 feet at the pull-out this past week to improve visibility.
This is a precious gem that we are blessed to protect in the Robson Valley.
I highly encourage you to make use of this trail and learn about the amazing ecosystem that has preserved these giant trees for such a long period. Alone or with friends, it makes for a spiritual experience.
I want to thank all the volunteers who are ensuring this place is open to the public in a safe and eco-friendly way.