By Andrea Arnold
The Ancient Forest/Chun T'oh Whudujut Park trail system is in need of clean up and maintenance after the winter months. As of Mother's Day, there were several spots along the trail that had either been shattered by fallen trees or completely blocked by tree trunks and debris.
The 450-metre boardwalk that was created to be an accessible access to part of the park has been broken and the rails on either side at one spot where a tree landed across it. The tree has been removed, but the damage is extensive enough that getting a wheelchair or even a stroller across the area would be difficult. The damaged area is beyond the bridge at the first creek crossing, but prevents complete access to the end of the boardwalk and the smaller of the park's two waterfalls.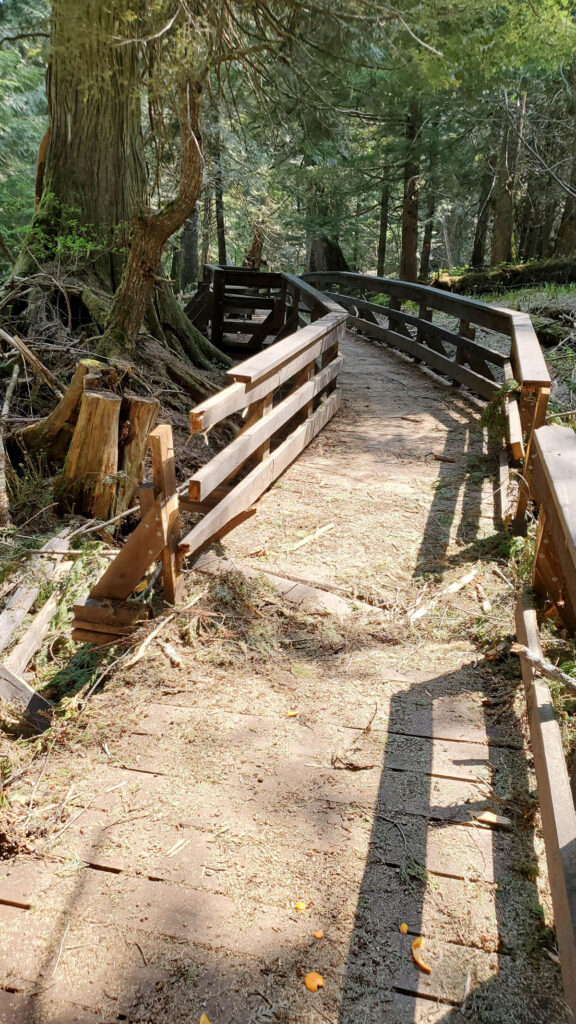 Several more damaged spots along the rest of the carefully constructed boardwalk covering 2.3km around the park also may limit the number of visitors. Some of these areas, visitors can navigate as there are branches covering the walkway, or a smaller fallen tree that needs to be climbed over, or navigated around.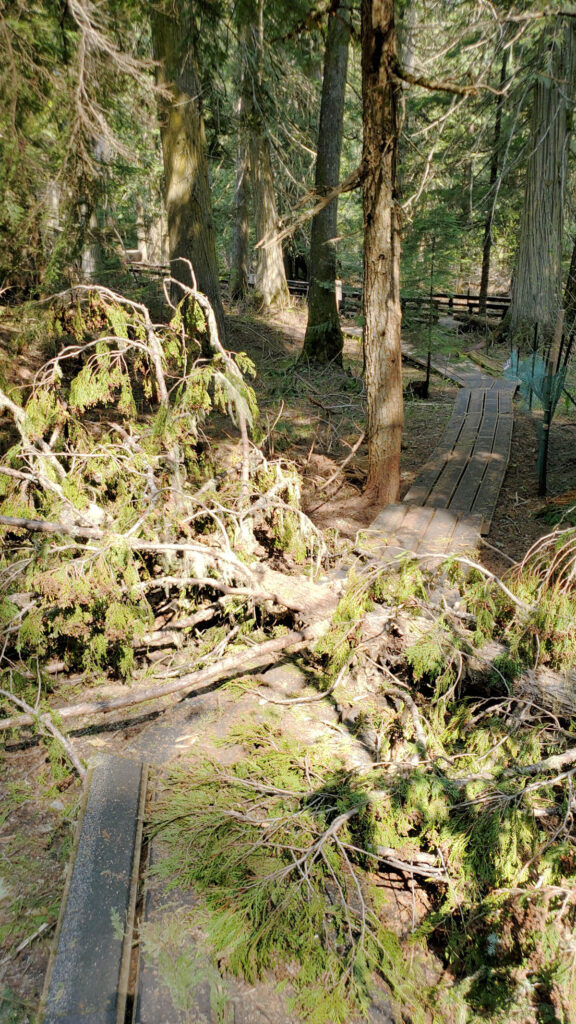 However, near the trailhead opposite to the accessible boardwalk, there is a large tree, approximately four to five feet in diameter laying across the trail with no easy detour.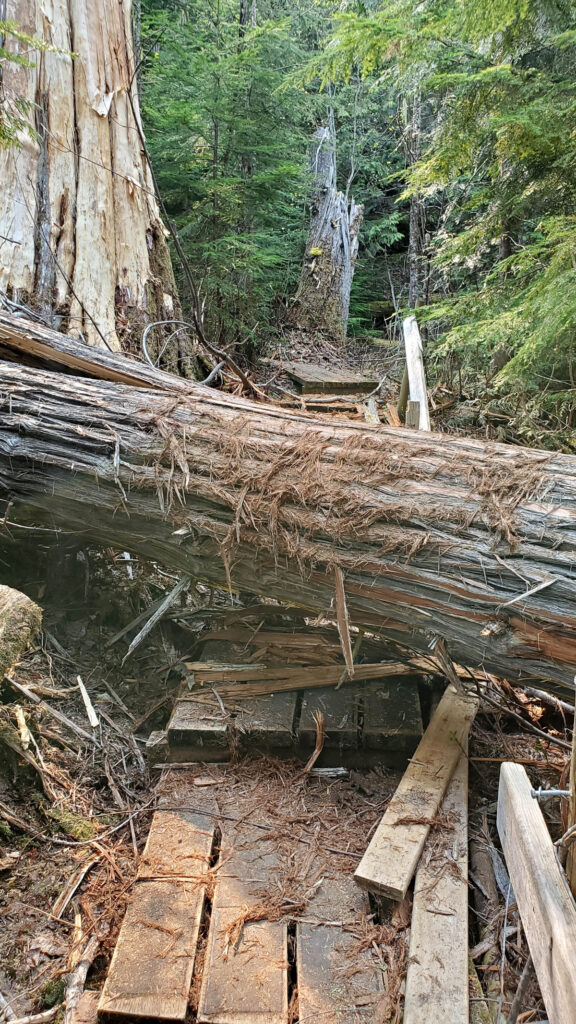 The Ministry of Environment says that once the snowpack has melted, and the top of the root mass is visible it is critical to assess tree hazards.
"Staff do an annual danger tree assessment along the trail once it is snow free and follow guidelines in the Provincial Danger Tree Program," said David Karn, spokesperson for the Ministry. "Trees that have a high value and identified as a danger tree will have a treatment prescribed by a certified arborist."
The MInistry says it is aware of the damaged accessible boardwalk, and has plans to install a temporary repair. Its staff will also conduct an initial assessment of any other downed trees.
Karn says maintenance contractors started work on Monday, May 15th, and that clean up will be scheduled as time allows. However, due to increasing wildfire activity within the Omineca Peace Region, Parks may delay staff in conducting some of the repair work.
BC Parks relies on reports from park users as well as occasional staff patrols to help them keep trails maintained. Following the discovery of a situation, problems are evaluated in regards to risk to the general public and overall business priorities.
Ancient Forest/Chun T'oh Whudujut Provincial Park is located along Highway 16 approximately halfway between McBride and Prince George. The park is in the traditional territory of the Lheidli T'enneh and protects a portion of the only inland temperate rainforest in the world.