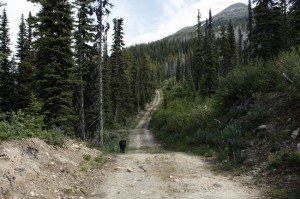 Robson Valley back roads punched by recent mud slides may take years to repair, and some may be left as they are, says a BC government forest professional.
Many of these roads are used for recreational pursuits in summer and in winter. Bell Mountain, a popular hiking and snowmobiling area near McBride, was washed out in three places. The road has been labelled "To be determined" for repairs as funds are funneled to more pressing projects across the province, says John Huybers, a Registered Professional Forester with the Prince George Resource District for the Ministry of Forests, Lands and Natural Resource Operations.
Huybers says his office met with BC Parks and Recreation Sites and Trails after the mudslides. The group then prioritized the roads in order of importance, traffic and ability to fix.
"We knew we wouldn't get them all fixed."
Roads that see heavy traffic or access important services are repaired first. It means many roads will be left in limbo as the office sees how much money remains in the pot.
Huybers says their office normally has a budget for Prince George and the Robson Valley to deal with normal maintenance, plowing and grading and normal bridge and culvert repairs.
For bigger repairs like there are this year, there is a pool of money shared provincially. He says districts then put in their "wishlist for repairs."
"Since we've had so many washouts, there's a lot of stress on that wishlist."
South of Valemount, the Canoe East and Canoe West road both took blows during the past month's wet weather. Canoe West is closed at 17km. Canoe East is washed out starting at 28km and again at 41km where Huybers says the possible cost would be millions of dollars.
"They're going to need some engineering work on it before they decide what they're going to do. The last thing we want to do is spend tax payers' money on something and then find there is a major structural failure in the road."
Because no one in particular uses the road, he says it's challenging to find the resources to maintain it, but he says they recognize that part of Valemount's tourism economy involves the use of backroads.
"When we say 'closed roads' that's to licensed vehicle traffic. We generally try to allow free access for ATVs, so that can allow economic opportunities."
Huybers says it could be an opportunity to market new terrain to ATV and snowmobile users, which isn't as disruptive to ecosystems.
"From our point of view, driving on an old forest service road can be enjoyable and doesn't cause environmental damage if the road is already established. There is some concern about people taking ATVs into the alpine, for instance, which causes permanent effects."
To make it clear a road is closed, they will often ditch the road slightly to provide a visual clue for traffic along with the sign – since people sometimes remove the sign. He says it's a type of berm or small ditch to prevent normal traffic from going through.
No online resource exists to show which roads are pending repair. However, some of the information regarding blockages has been passed on to local recreation clubs and tourism information centres.
Glen Stanley, a member of the McBride Tourism Committee and the Ozalenka Alpine Club, says he is pleased the government has already repaired access to the Ozalenka cabin and hiking area along the Dore River FSR.
"They opened it up for us and graded it right to the trail head."
He says many tourists rely on these back roads for experiences they have travelled far to see.
"There are people who have come over from Europe – Germany and different places – who have spent a month here, and they said (the Ozalenka cabin) was the high point of their whole Canadian tour."
He isn't sure when the road to Bell Mountain will be fixed. The repairs are beyond what local resources could manage. The area is popular for snowmobiling. Huybers says they hope to have it open before the winter season.
"We're just thinking about what to do for that one. We know that one has high value to the community of McBride and to the snowmobilers," Huybers says.
Another road near McBride, the Dore River South Forest Service Road was washed out in at least five places, and has been deemed low priority.
"That one is pending funding. We see how much we're spending on other projects and then go back to that one."
Other roads affect include the Morkill FSR at 42km due to a cutslope failure – which is a complicated repair, Huybers says. Carrier Lumber is currently repairing the road at 11.7km and installing a large culvert. As far as the government repairing the cutslope failure, "It's still a question mark," Huybers adds.
Lucille Mountain was washed out in three places. Huybers says that will be a priority since the CBC and Telus towers are located above and it's in the water shed for some people living near McBride.
Walker Creek will be fixed this month or next month. The McKale Mainline is a high priority because of its use by snowmobilers to access Mt. Renshaw and will be fixed in the near future.
Kiwa Glacier FSR is close to being fixed at a 2.5km washout. Castle Creek FSR was hit bad in three spots, but will likely be repaired by Canadian Mountain Holidays and/or Castle Mountain Hydro.
Liz Norwell of Headwaters Outfitting says a washout along the Dave Henry mainline south of Valemount means an added 2km jaunt to reach the cabin. They can usually drive 9 km down the road.
"It's a bit of an inconvenience – we have to start at 7km."
Huybers says with some of the parks, local users and guides have no problem with there being no access for a few years.
"The park goes to sleep for a few years, reverts back to nature, they understand that. But if we lost all the access to recreational parks by McBride, that's not good for tourism or locals. That's why we decided to go after the Dore – that's the best bang for the buck."