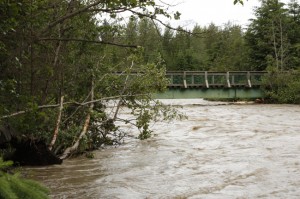 The Valemount Boil Water Advisory has been rescinded effective as of 3 pm, June 28, 2012 and Valemount residents are once again safe to use water directly from the tap.
The evacuation alert remains in place and people are asked to remain prepared should conditions change. Public works staff will continue to monitor water levels closely and if conditions change, this alert will be upgraded.
The high water levels and debris flow which began in Swift Creek late Saturday night have significantly damaged Valemount's weir and water intake, as well as threatened the homes and properties of several residents, the Village water pumping station, the bridge over Main Street, properties just outside the Village, and other public infrastructure such as roads, highways, and bridges. The high water significantly damaged the banks of the creek, in some places eroding them to dangerously thin widths. In addition, the water turbidity was extremely high, creating conditions of potentially unsafe drinking water.
Work to quickly address the emergency began on Sunday morning with local contractors armouring the banks in the most vulnerable areas, and in the areas threatening infrastructure and homes. Professional consultation on risk areas was sought, with hydrologists assessing the creek via helicopter. An engineer was hired to assist with the placement of the rocks and the concrete blocks, and the Provincial Emergency Program was contacted and resources were quickly assembled to assist the Village.
Monday a Geotechnical engineer performed an on the ground assessment of the condition of the stream, banks, infrastructure, and risks, while more planned work began on armouring of the banks in the weak areas. Water levels began to noticeably recede, and water turbidity began to drop. The armouring of the bank continued on Tuesday while water levels continued to drop and turbidity lessened.
Wednesday brought new challenges, as the lowering water levels deposited trees and other debris, causing some problems with water diversion and again compromising some areas of the bank. These log jams were removed on Thursday morning, and work to secure the compromised areas of the bank continues. The water intake for the Village water system is still damaged, but equipment capable of repairing this will be at work on this on Friday, and may be able to assist with some work to secure the weir as well.
The section of the Swift Creek Loop adjacent to Swift Creek is closed indefinitely due to erosion and unstable banks. Residents are asked to remain cautious around all local waters, as they can be unpredictable.
If you have concern to report, please contact the Village of Valemount at 250 566 4435.
For more information on emergency preparedness, visit http://www.emergencyinfobc.gov.bc.ca/prevention-preparation.html