This slideshow requires JavaScript.
This year's Valemountain Days celebration drew big crowds throughout the weekend, but got a special boost on Sunday when stranded motorists joined in the festivities.
On Sunday June 24th, Hwy 16 north of town closed on both east and west sides. Motorists headed to Alberta were forced to wait as the southern route to Alberta via Hwy 1 also closed near Revelstoke. All closures were due to mudslides and flooding. Cars and trucks were parked bumper to bumper for several kilometres, clogging every inch along sideroads and parking lots.
The highway to Alberta re-opened late that night,though many people slept in their cars. Close to 1000 people spent the night in town.
At the same time, Swift Creek broke its banks and compromised the Village's water treatment system, so a boil water order was in effect.
Heavy rains and snowmelt wreaked havoc on highways and streams.
Four residents were evacuated from their homes along Swift Creek as the creek resembled a raging river, eroding the banks and destroying the weir just east of Main St. Public works crews, village staff, dozens of volunteers, and many others pitched in to spread the word and make sure residents and tourists remained safe.
What do you do when you're stuck in Valemount?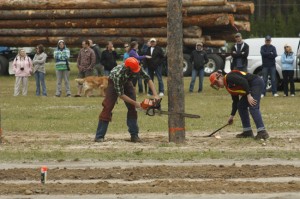 If it's Valemountain Days, you might learn how to chop down a tree as Roel van Til and partner Anne Roth of the Netherlands did. They were stuck in Valemount on their way to Jasper on Sunday when the highway closed. van Til decided to take part in the loggers' events tree falling competition.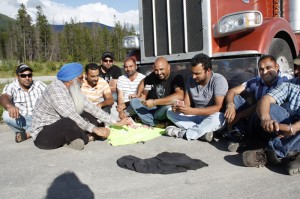 Crazy 8s! (actually we're not sure what they were playing)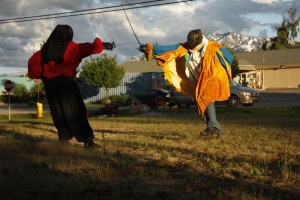 Sword Fight! Bryan Tosczak (Bjar the Blue) and Reme Rudyk (Reme the Burgundian) and their crew decided to make the best of their time in Valemount by donning their medieval wardrobe as members of the Society of Creative Anachronism. They were returning to Alberta after fighting a "war" in Clearwater.
Logger Sports 2012 by Valemount Community Television