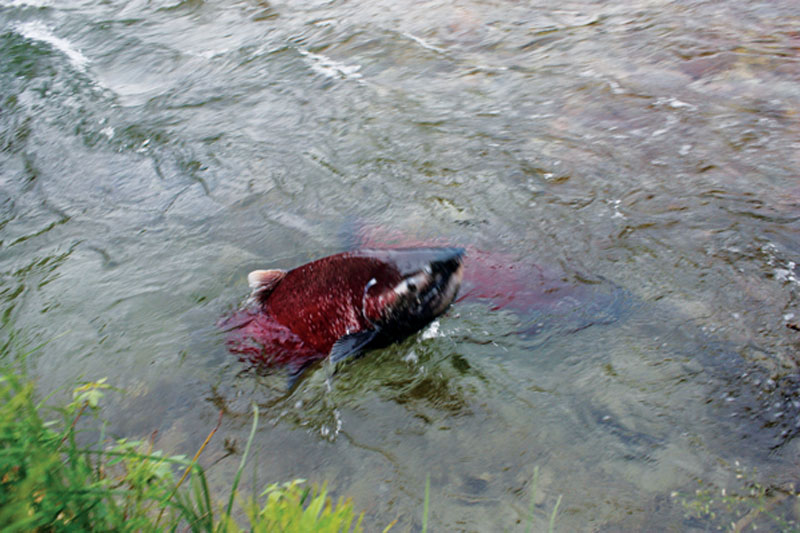 The upriver journey of Chinook salmon is an exciting drama. The goal of the salmon is to reach the freshwater stream in which they were born, but this is easier said than done, especially for the salmon that will soon arrive in Valemount.
Some 9,310 chinook were estimated to have spawned in thearea in 2010, laying their eggs in the river bottom.
The Swift Creek spawning grounds are part of the second longest Chinook salmon runs in North America. Salmon that arrive here have traveled over 1200 km over 10 weeks through the Fraser Rivers often treacherous waters. Only about 25 of every 100 salmon survive.
The spawning grounds are located within walking distance from Valemount's Visitors' Center. From the banks or from the lookout platform, you can experience the beauty of the mountains as well as the salmon fighting for their preferred egg laying spot. The area is also wheelchair accessible.
During the time you can view salmon at the spawning grounds, they will also be present at Rearguard Falls located 4.2 km east of the highway 5 and 16 junction. Here is one of their most brutal obstacles, and it's also so close to the end. Many salmon make it to these falls, but very few can make it past.
There are also two local companies which offer a scenic float trip with a wonderful view of the salmon as well as the bears and eagles that with fish on the menu.
"The Chinook salmon spawning upstream of the area around Prince George are unique compared to the rest of the Fraser river Chinook," says Greggor Cuddeback, an interpreter for the visitor information center. "Salmon fry that hatch up stream of Prince George will remain in these waters for two years, one year more than their cousins downstream."
Interpretive talks will also be offered at 7 pm each night once the salmon arrive. For more information call 250.566.9893 or stop by and view their educational salmon display. Visitor Centre staff warn not to harass the salmon, by sttaying out of the creek and keeping dogs on a leash. It is an offense to physically harm Chinook salmon when they are spawning.