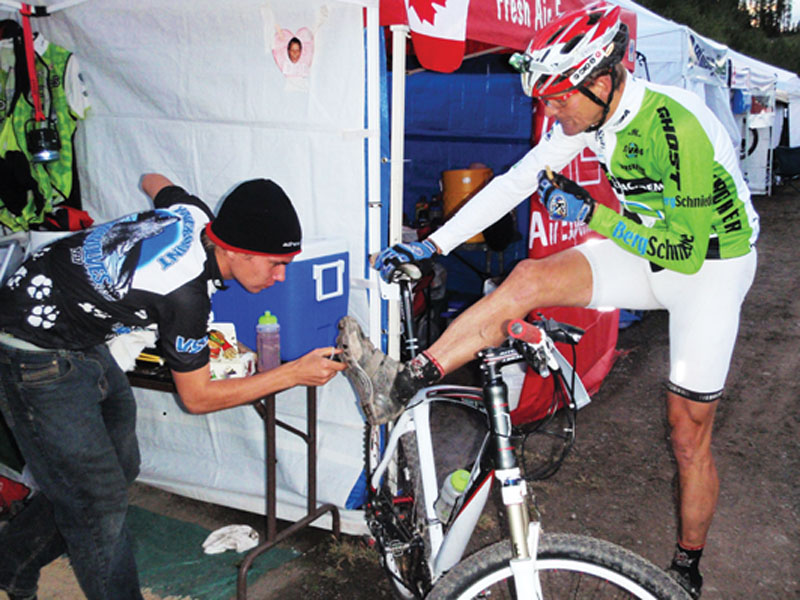 Raphael Jamin
[email protected]
Racers ready? 5… 4… 3… 2… 1… go! A chorus of bells and shouts erupted as the runners took off at a sprint.
This was 24 hours of adrenaline in Canmore Alberta, one of North America's most popular mountain bike races and Blue River cyclist Andy Aufschnaiter was ready for the long haul.
Aufschnaiter has competed in races all over the world, and this was his second major race this year. His first was the BC Bike race, where he placed 2nd overall in his category.
Six days earlier, a friend had asked me if I would be able to be Aufschnaiter's pit manager and I quickly said yes. On race day everything was going smoothly, but as usual Mother Nature had made things interesting. The skies that had begun to clear the previous night were overcast once again and it was pouring rain.
As the start of the race crept closer, the rain slowed, but the 17.5 km trail they would be riding had become a dangerous soup of mud and slippery roots.
As everyone lined up to start, I had trouble spotting Aufschnaiter. Even though he towers over me and is skinny as a rail, many of the bikers around him were the same size.
I noticed none of the riders lined up had a bike. They were starting with a 600m Le Mans start where they must run to their bikes before starting the course.
As the clock struck noon, the race began. Those hoping to get an early lead sprinted ahead, while others just jogged or walked.
About four minutes later, the first runners came in, hopped on their bikes, and took off. I also took off a few minutes later towards the tent to make sure everything was ready for Aufschnaiter when he got back from his first lap.
Nearing the end of the first lap, the leading cyclists passed by the tent absolutely caked in mud from head to toe. A lot of the solo riders switched bikes. Apparently enough mud was clinging for a big weight difference.
Aufschnaiter soon came in and after quickly swapping one water bottle for another; he was off on his second lap.
By the end of his second lap, he too had to switch bikes to get the mud off. This created a mad scramble since his other bike wasn't supposed to be used until dark. After we grabbed a knife and stripped the second bike of its night gear, he was able to complete another lap.
While he was gone, Aufschnaiter's friend and I washed the bike. It was just a quick lube and tune-up before the bike was ready once more to face the trail.
By the end of the third lap, Aufschnaiter was in eighth place overall and still going strong.
After a bit more than five hours of riding straight, he decided to take a break for a few minutes and eat some fruit.
While he ate, I asked him why so many people had broken their bikes on the trail.
"The trail is drying up, but the wet roots are still catching a lot of people off guard," he said.
He rested for a total of five minutes before he asked if I could have a burger ready for him when he gets back. Then he hopped back on his bike.
The night continued on until at last Aufschnaiter came in from his eighth lap and felt too tired to continue without a rest. The winner of the race does the most number of laps in the shortest period of time, meaning Aufschnaiter can decide how many laps is enough.
"I could keep on pushing myself, but I don't want to repeat my BC Bike Race crash."
The crash opened up his chin and it took 13 stiches on the inside as well as a few on the outside to close it up.
The short rest turned into a long one and he didn't wake up until about 7:30 the next morning. After deciding he would just do one more lap for fun, we went for breakfast at the Nordic Centre.
At 10 am, Aufschnaiter felt fully refreshed and ready to enjoy his last lap. With a smile on his face, he took off and finished his ninth lap in an hour and 13 minutes. This put him in a satisfying 17th place with having ridden 155 km.
The previous year he managed to come in eighth but it took him four days to recover. This year he said he just wanted to use the race as training for the TransRockies bike race in early August.
While before I never really thought much about cross-country races, the atmosphere, camaraderie, and excitement that came with the event has made me want to be one of the racers next year.