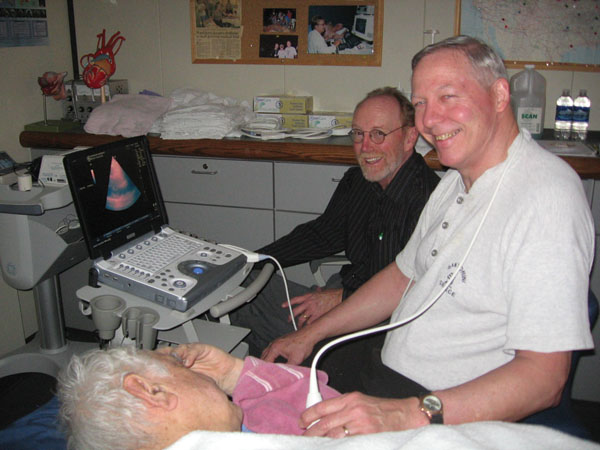 People in the north requiring a specialized ultrasound of their heart will have their wait and travel time cut back for this procedure, thanks to a local doctor.
Since Aug. 2010, Dr. Michael Jackson, who is based out of McBride, has been studying cardiac sonography at Washburn University in Topeka, Kansas.
After completing the year-long program and writing both national and international exams this summer, he'll be certified to perform ultrasounds on people's hearts.
Cardiac sonography, also known as echocardiography, produces an image of a heart's structure and its functions. Much like an ultrasound technician views a pregnant woman's fetus, cardiac sonographers use the same technology to examine the heart.
Echocardiography evaluates heart valve function and measures details about heart contractions, using sound waves. It's non-invasive, requires no radiation and the patient doesn't have to swallow any dyes.
Few people within the boundaries of Northern Health are qualified to perform echocardiographies. Sometimes Northern Health has to hire someone to come from Vancouver or Calgary to keep up with demand. Even the cost of Dr. Jackson's training is coming out of his own pocket and he hasn't received payment from Northern Health since he left McBride.
"My hope is to have a cardiac sonography service based here in McBride," said Dr. Jackson. "I can serve the Robson Valley, take some load off the hospital in Prince George and save on the costs of importing services from Alberta or the southern mainland."
"Anything that increases [Northern Health's] capacity to test or diagnose people and not have them travel, then that's a good thing," said Northern Health communications officer Eryn Collins.
Cardiac Sonography is recommended for people with irregular heartbeats, heart failure or heart murmurs that are getting worse. It can also be used to check anyone who recently had a heart attack, or surgery like a bypass, valve replacement or stenting.
It may be recommended for anyone experiencing chest pain, unexplained, persistent fever, breathing difficulties or adults who unexpectedly faint. People who want to commence strenuous work or sports may also receive one if they have a family history of heart disease.
Cardiac sonographers usually don't diagnosis the patient, they send the images to a cardiologist. The nearest cardiologist, Dr. Haidar Hadi, is in Prince George.
A diagnostic medical sonography program that offers echocardiography isn't available in B.C., but is in Alberta. The certification doesn't require previous education besides high school. Anyone can take the program.
"It's great for people who multitask and for kids who are good at playing video games," said Dr. Jackson's wife Barbara. A cardiac sonographer runs the apparatus over the patient's heart with one hand while typing in codes on a keyboard with the other.
The demand for cardiac sonography is expected to increase as the population ages.
Dr. Jackson's ultimate goal is to have a mobile unit that will travel to patients in the north.
"Because the equipment is so portable, I can take it to Valemount or out to many other cities and villages across the north."