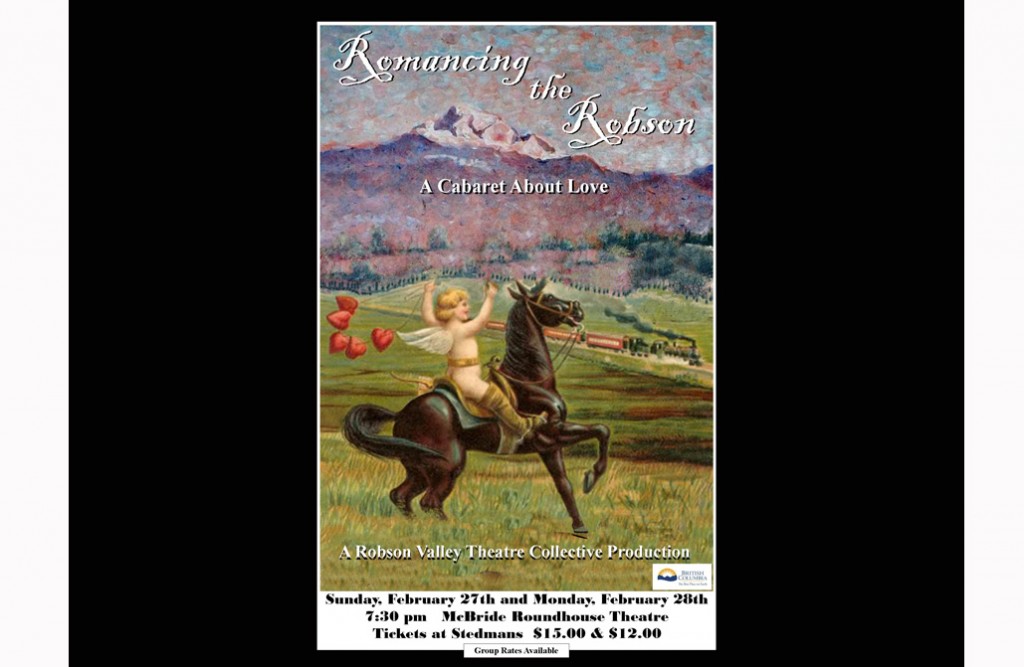 Sharon Stearns is going to show you love in the Robson Valley. The local playwright is putting on a cabaret with the theme of love with help from a Spirit of BC grant, which is meant to highlight the arts as a legacy of the Olympics.
The Robson Valley Arts and Culture Society commissioned Stearns' company Wishbone Productions to create a drama – or this case, a series of skits and musical acts – before the end of February, as stipulated by the grant.
"We wanted to have something that celebrates the culture of the valley," Stearns says. "There will be some jokes where people will say 'Oh yeah, this is where we live.'"
In "Romancing the Robson" using music, skits, and character monologues, the couple dozen actors will explore the nature of love in our mountainous setting. Stearns says it could be unrequited love, puppy love, forbidden love, platonic love, and self-love, among others – all the kinds of love they could think of.
Many of the actors will sing and play instruments alongside a choir and Dunster's Mamaguroove. All will play numerous characters in different sketches – not all based in the present. There will be some original music and some old favourites.
Previous shows have been historically based on real characters, whereas this one is not tied to any real events, she says.
"It's a lot more fantastical, and the characters aren't based on characters here," she says.  "We're taking the spirit of living in a rural area, living in a rural area in winter time."
She says people often say 'Everything just comes down to love' or 'love is what makes the world goes round' but she doesn't think people talk about that in relation to the Robson Valley.
"I've lived here for about 12 years and I know most people don't go around talking about love too much," she says.
The cabaret will run Feb 27 and 28 starting at 7:30. Tickets are $15 for adults and $12 for children and seniors. Performances in Valemount will likely happen in March.