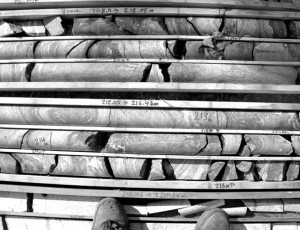 New report confirms larger size of mineral deposit
World price of tantalum spikes as 'conflict mineral' boycotted
Commerce Resources Corp. has released an updated mineral resource estimate for the Upper Fir Tantalum and Niobium Deposit near Blue River, pointing to a larger resource than previously thought.
The indicated resource of Tantalum and Niobium went from 7 million tons last year to 36 million tons this year. The inferred resource went from 16 to 7 million tons, decreasing due to some of the material being upgraded to 'indicated material.'
AMEC Americas Limited completed the study as an independent reviewer. The report is part of the ongoing Preliminary Economic Assessment, which will indicate whether the company has grounds for pursuing a mining operation at the site.
The picture right now looks good, based on the first set of data, AMEC concludes in the report. It states that exploration programs completed on the Blue River Project have met their objective of identifying tantalum and niobium mineralization that "has reasonable prospects of economic extraction."
There are still many factors to sort out, however, some of which will be determined in the coming months, says Chris Grove, corporate communications with Commerce.
While there are many positive indicators in the technical report, the company has taken a cautious stance on its success. It first acquired the property in 2000, and since that time has done numerous resource estimates and drilling samples. AMEC is working on the next report which will look at more detailed information on the economic feasibility of the project.
The mineral resource estimate is supported by a base case price assumption of $317/kg for Tantalum, which is significantly higher than historic average prices. Most importantly, AMEC reports market analysts are in general agreement that current political and market conditions support the probability of sustained higher prices.
Over the last six years, tantalite concentrate prices ranged from $75/kg to $100/kg. In 2010, prices rose dramatically in response to numerous conditions including reduced production, increased concerns about conflict-tantalum production in Africa, depletion of known strategic stockpiles and curtailed exports from China. In mid-October 2010 the price for Ta2O5 in tantalite concentrate was $195/kg.
The value of Niobium – a compound used to strengthen steel – has remained relatively constant over the last several years.
"Tantalum's price right now is spiking up like crazy," Grove says.
No legal tantalum coming out of the Congo
Over 30 per cent of the world's tantalum has historically come from the Congo, which is now being boycotted.
"That is the lowest-cost produced stuff on the planet. It's produced by slave and child labour."
For 15 years, a cycle of conflict in the DRC has left more than 5 million people dead, displaced countless more, and spawned an epidemic of sexual and gender-based violence. The UN has between 18-24,000 peacekeepers in the Congo – the largest concentration on the planet.
And yet, Tantalum is essential for nearly all electronics production and manufacture, meaning many producers continued to buy Tantalum, despite the human rights abuses connected to its extraction.
The other big mines are located in Brazil and Australia. In 2008 the largest Tantalum mines in Australia, that would have supplied about a third of the world's supply, told customers they'd have to accept a price increase of $60 to $120 a pound if they were to stay in the market. The industry disagreed, Grove says.
Then with the economic downturn, everybody who had a stockpile of tantalum used that instead. Most had a two to three year supply.
The most recent price impetus came in July 2010, when Hillary Clinton and the Obama administration addresed the world's worst humanitarian crisis, that in the DRC. The Obama Dodd-Frank financial reform bill was signed into law. In that bill is the conflict minerals legislation which states every US-listed company – Apple, Toshiba, Nokia, Samsung, LG to name a few – has to file an annual report to the US Securities and Exchange Commission stating that they and their suppliers are not using tantalum from the DRC.
"My metals traders say they cannot get material out of the DRC right now," Grove says. "To me that's a very good thing."
He says it wasn't just the U.S. reform that was the impetus for that change but other factors as well.
Last month, the world's largest tantalum mine in Australia went back into production, to supply 700,000 lbs each year.
Tailings facilities could be in Valemount
For Blue River in 2011, AMEC recommends a work program for an estimated total cost of $4.35 million. AMEC concludes there is sufficient area within the defined Project to accommodate mining-related infrastructure such as a plant, mine, or waste rock facilities.
The area within the Project amenable for potential wet tailings facilities, however, is limited. Other options include dry stacked tailings, underground disposal, or facilities external to the existing property boundary. The report notes that sites for tailings facilities have been considered within 20 km of Valemount. Company spokespeople said they would not have a clear indication of the location of the tailings until a more solid project plan is in place.
The report also brought up certain potential risks such as the presence of Uranium and Thorium present in the resource and waste rocks. However, the report notes any radon produced in the mine and process plant is likely manageable with ventilation, dust control, and monitoring. The amount is not above the B.C. threshold to be considered a uranium project.
Additional work required to assess potential mining and milling methods that are suitable to the local geology and mineralization style and that can support an economic mining operation is on-going.