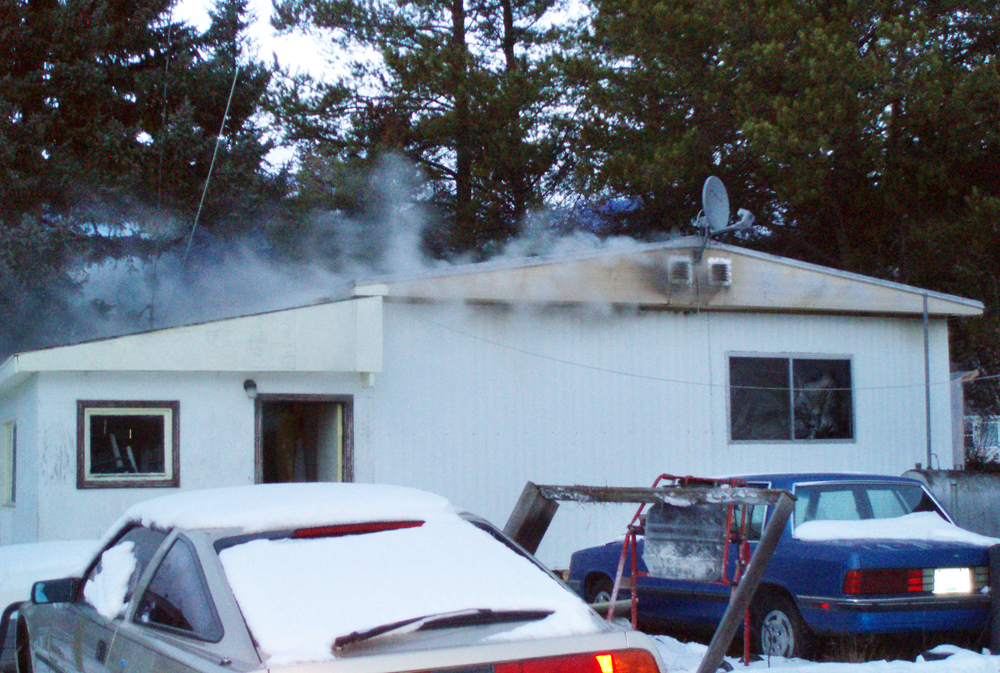 The flames were so high they were touching nearby pine trees, but Valemount firefighters had the flames down almost as quickly as they first spread through a mobile home on 3rd Avenue late Monday afternoon.
Even so, the flash fire gutted the interior of the home belonging to Linda and Ron Goodell. Linda Goodell was inside the house sleeping when the fire broke out, says Rick Lalonde, Valemount fire chief and a friend of the Goodell's. She smelled smoke and ran out the back door when she saw the fire.
The long-time Valemount couple lost basically everything in the blaze.
"It's pretty much a total loss," Lalonde says. "They only got out with the clothes on their back."
"Not a very bright start to a holiday season."
Emergency Social Services will provide some assistance for them for 72 hours while they figure out what to do and speak to their insurance company. It will pay for loding and meals for that time and help replace some clothes and other necessities.
RCMP Const. Simon Bentley says it appears the fire originated at an electrical source, an old switch that had been in there since the house was built.
He says switches should probably be replaced every 10 years and to upgrade to proper copper wiring if a house is still using tube and wiring.
He says neighbours have offered the Goodells a rental unit for them to use until they get a new place.
"The community is already rallying around them," Bentley said Tuesday morning.
The fire broke out shortly before the fire department got the call at 5 p.m. on Dec. 6. A dozen firefighters responded to the call within minutes.
"It's amazing the response time of the fire department," Bentley says. "I was there and next thing I know I heard the sirens coming and I've worked in larger centres where that hasn't been the case."
Bentley says at least four rooms of the house are "completely gutted." Lalonde says the house will have to be demolished because the damage is so extensive.
The neighbours were evacuated as a precaution, but no other property was damaged.