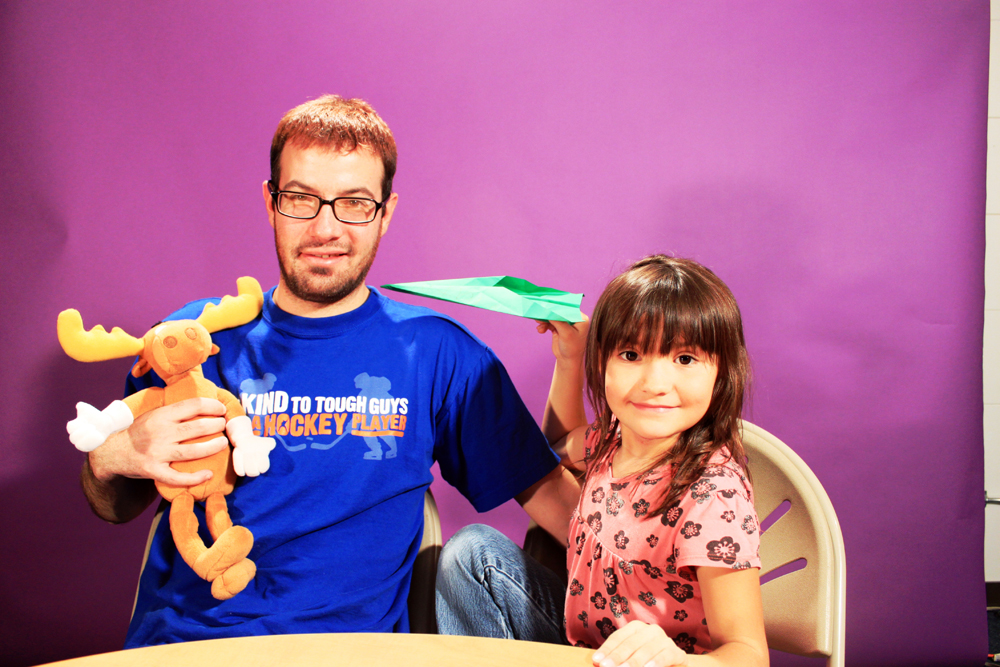 Valemount's budding star Hannah Black and her dad, Wellesley Black have scored their own TV show, The Father Daughter show. Airing Friday nights from 7p.m. to 9p.m., the program is primarily a music request show- but with Hannah on live there's always a twist.
"You should see me dancing," Hannah says. "I'm just too funny."
As the camera switches back and forth between the two, Hannah runs around playfully, draws, sings, dances and even invites guests on while Wellesley answers phone calls and plays popular music for viewers. One of Hannah's favorite parts is holding a contest during the show.
"I usually make a guessing book," she says. "People have to guess what's inside, then they win a prize."
Wellesley Black is no stranger to the station. For several years during his youth, he ran a phone-in request show under previous station manager John Brogan. When the show is lacking calls he occasionally sends out requests to unsuspecting listeners on behalf of people who haven't actually requested anything.
"It's a blast to be involved," he says. "I've got a good sense of humor, but sometimes I get carried away."
Station manager Andru McCracken says he likes the Father Daughter show because it encourages the community to get involved. He says the show is inspired by Grogan's tenure when many community members and even young children had their own shows. As the Father Daughter Show is on live, it's bound to have a mistake or two – an accidental nose picking, a camera bump, or a little soundboard feedback – but that's what keeps it interesting, McCracken says.
"This is Valemount's version of reality TV," McCracken says. "We basically come in, set up the cameras, and let them go."
For seven-year-old Hannah, who's been on VCTV many times, it might be a little more. She says she'd like to be a TV star like her favorite Hannah Montana when she grows up.