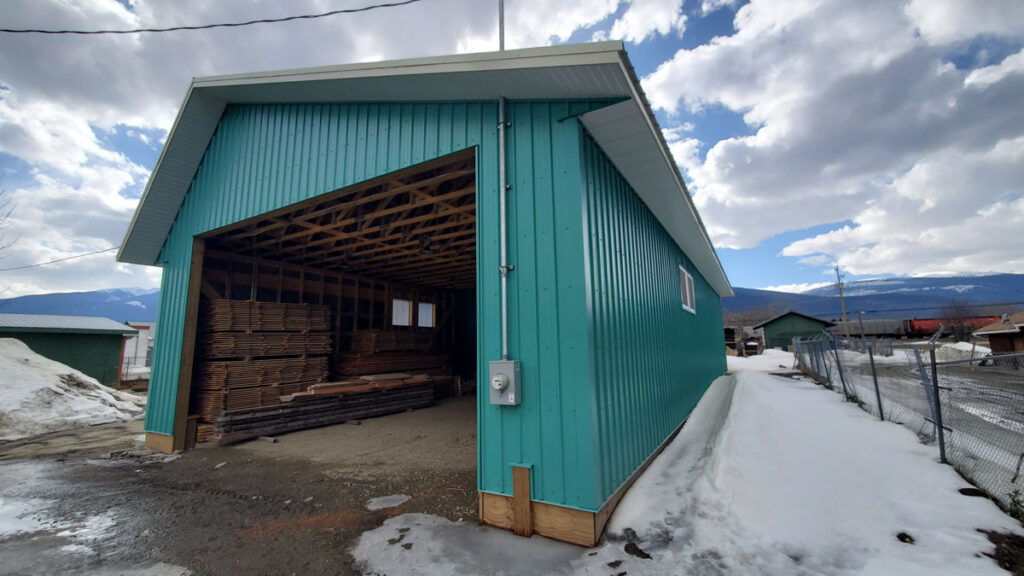 By Andrea Arnold
The Dunster Community Forest Society's BRKH Custom Woodwork located at 894 1st Ave in McBride has completed the construction of a 60×32 structure on the same lot as the original building.
Half of the building will serve as covered storage for rough material, allowing some air drying away from the unpredictability of the elements. The other half is an enclosed woodworking shop where staff will create wood items like doors, tables, shelving, and anything else that customers request.
The building project was partially funded by the Province of British Columbia through the Community Economic Recovery Infrastructure Program (CERIP) – Rural Economic Recovery stream. The grant included a requirement to meet the Wood First Act mandate. This means that approximately 20% of the total material costs for this project was in wood/wood products.
"We applied for the grant in late 2020, with the expectation that the project would be completed by Dec 31, 2021," said Marie Hyde, DCFS Business & Marketing Administrator/GIS Specialist.
At the time, the total projected gross budget was $99,000. DCFS received $88,000.
Hyde says that due to the pandemic, the increased cost of materials, and supply chain issues resulting in material sourcing delays caused a delay in construction and increase in the overall project cost. The final cost of the project was approximately $227,000.
Construction on the structure began in July 2022, and was finished by December 31, 2022. Complete electrical hook-up was completed in early 2023.