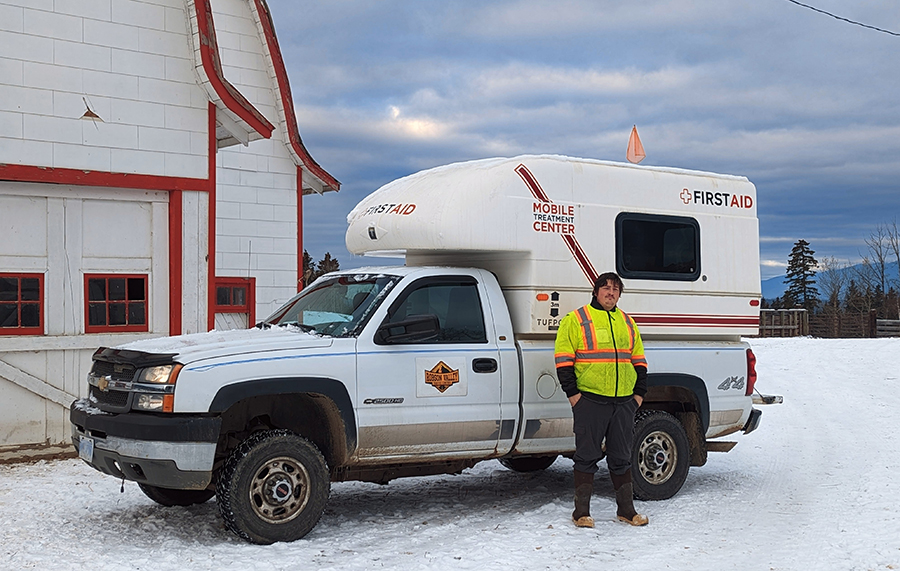 By Andrea Arnold
Robson Valley Traffic Control has added a new specialized truck to its fleet of vehicles. The Medical Treatment unit allows them to provide some medical treatment on site. The unit will mostly be used on moderate to high risk jobs that are either at a remote location or too far from a medical centre.
"In some of the jobs we get called out on, especially those involving BC Hydro, a medical treatment vehicle may be required to be on site," said company owner Leah Peterson. "Being able to provide this service may allow for a faster resolution in some situations."
Currently, Peterson's son and staff member Wyatt Milligan has completed the two week course required for certification in Level 3 Occupational First Aid.
"We plan to have more staff certified in the future," said Peterson.
The truck and medical unit were purchased, combined and fully stocked with new supplies including an AED and oxygen. The shell of the medical unit is a hard shell, rollover protection style.
Robson Valley Traffic Control was started when son Cole Peterson took a flagging course during high school. It was his idea to start the business in 2016.
"We supported him, and then when he moved back to Alberta, Leah (mom) stepped in and took on the responsibility," said Peterson.
Robson Valley Traffic Control has continued to be a family business. Although some of their crew are not genetically related, the Petersons consider them all family. They get called out at all hours to work in all kinds of weather and situations. Most often, flaggers are called spur of the moment following an accident.
"It takes a special kind of person who wants to help keep the community safe in all conditions," said Peterson. "We are extremely fortunate to have the staff we have, and we are looking for more dedicated individuals."
A few years ago, Petersons were asked if they would consider a contract working with the pipeline. They decided that no, they would stay in McBride and continue to serve the community here. They have continued to build their fleet and inventory in order to better serve the valley.
Currently the crew has three fully stocked flagging trucks as well as several support trucks when more than one is needed on a site. They have upgraded their lighting systems used to help keep flaggers safe at night and are planning to purchase some automatic flaggers.
"Our hope is to continue to invest in the community through increased service," said Peterson.