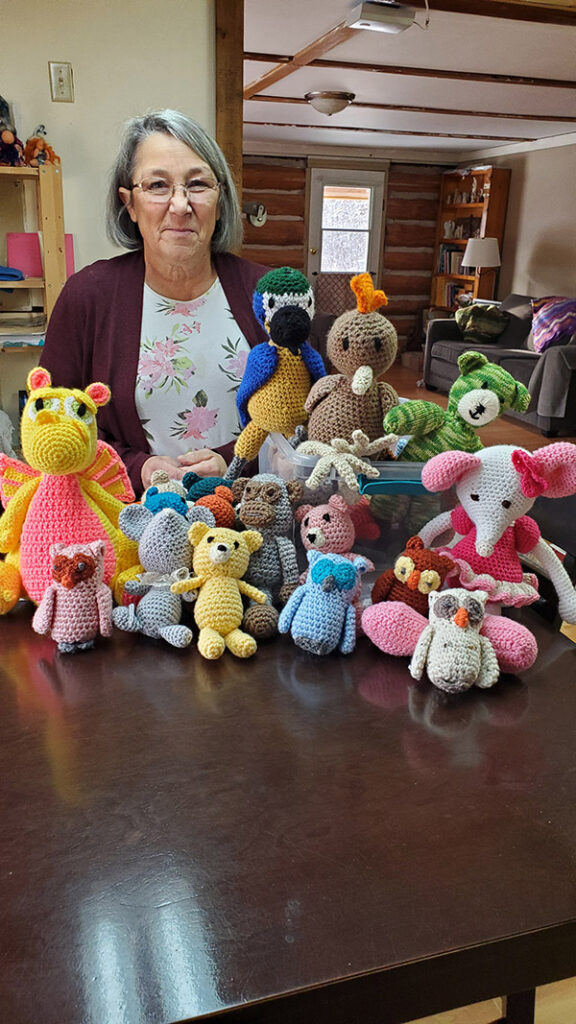 By Andrea Arnold
Normally at this time of year Dunster resident Theresa (Terrie) Lewis would be preparing items for sale at Christmas Markets across the valley. This year she is recovering from a bout of pneumonia and was not sure how she would be feeling, so she did not commit to any sales. However, she is very much still open for business.
Lewis loves fibre arts and has been learning and creating for most of her life.
"I started when I was eight or nine," said Lewis. "I was interested in what mom was doing, and I picked threads out of zippers."
Her mom taught her and her siblings many of the skills Lewis has developed a passion for. At times it was tricky due to the fact that she is left-handed. Knitting and crocheting patterns are usually set up for right-handed people. Her mom was also left-handed.
"The mirror method worked the best," said Lewis. "I sat across from her and mirrored what she was doing."
Years later when Lewis was teaching her own right-handed kids the same skills she taught herself how to knit and crochet right-handed instead of using the mirror method her mother had used.
In the years since she learned sewing, crochet, knitting, and quilting she has also dabbled in cross stitch, dried flower arranging and jewelry making.
When she was 23 she began attending craft fairs. The first one was in the foyer of the arena in McBride, and she continued to build from there. She has attended markets in McBride, Valemount, Dunster, Hinton, Prince George and Jasper.
"All the markets are opportunities to network and learn from other vendors," she said.
In addition to markets she also sewed clothing for her two oldest daughters.
"I wore out three sewing machines," she said.
Throughout the year, there are certain times she focuses on different types of projects. January and February are months when quilting projects take over. The other cooler months are consumed with knitting and crocheting. Her smaller projects can be carried with her and worked on when she has free time wherever she is. When the days get warmer she tends to set aside her projects to dedicate time to being outside.
Her favourite project at the moment is small stuffed animals.
"They have so much personality," said Lewis. "The eyes and noses are embroidered on and I check to make sure all the pieces are stitched on securely."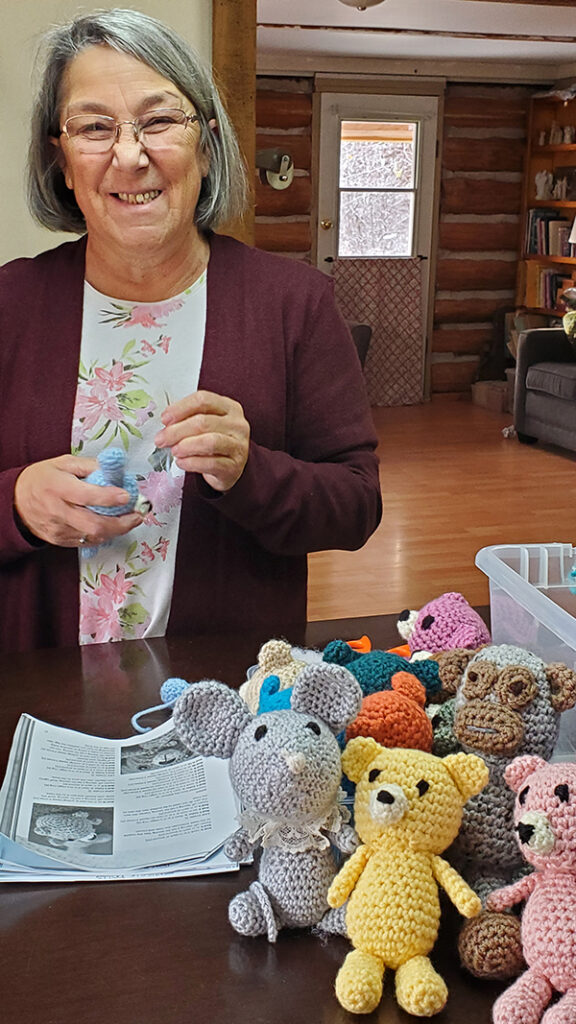 She has a variety of other machine washable items in stock: towels with hangers, either crochet or quilted, sewn bowl cozies, hand warmers, mittens, slipper socks, dish clothes, baby blankets, trivets, kids toques and some small sweaters.
This past summer Lewis was a vendor at both the Dunster Farmers Market and the Lemonade Stand sale. Following the farmers market season she was really pleased to see how many new vendors participate in the market each week. She really appreciated the opportunity the Lemonade Stand provided to see the other vendors.
"It was exciting to see people recognize my stuff," she said. "I really like interacting with people at the sales."
Lewis has a Facebook page, Country Knits & Quilted Bits, where many of her projects can be seen. Any of the items on the page can be ordered and Lewis is willing to take on requests for "one off" projects providing it is something she is able to do. She is able to combine patterns when needed. However, sometimes the availability of a pattern and the supplies needed can prevent a project. Orders can be placed through Facebook and Lewis is willing to ship her products.