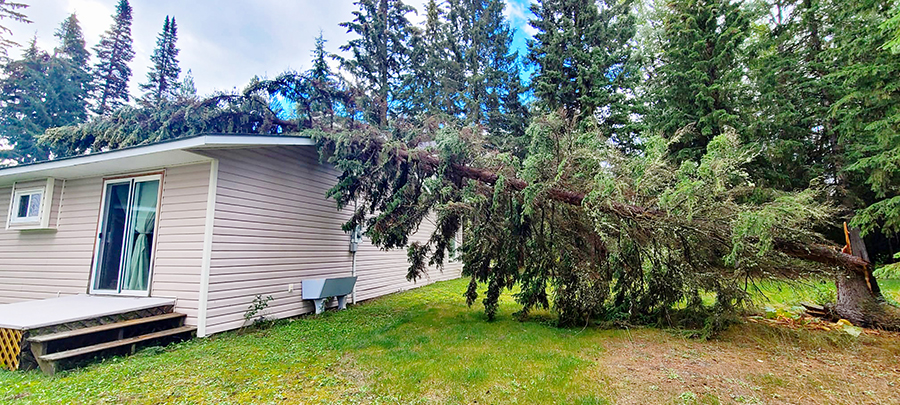 By Andrea Arnold
After gusts of wind travelling through the Robson Valley reached speeds just shy of hurricane speeds on the evening of Sun. Sept. 4th, many residents are feeling very fortunate that all they have to deal with is downed trees.
Environment Canada issued a severe thunderstorm warning Sunday and not long after, between 5:30 and 6:00pm, the wind howled through, and power flickered several times before going out for most of McBride. Calls started flooding into BC Hydro as well as 911 reporting several spots where trees were either on the power line, or the force of a falling tree had broken the line altogether, and one report of a tree having landed on a house. BC Hydro reported that close to 1200 customers between Dunster and Dome Creek were without power for several hours.
Following the initial outage, Hydro was quick to respond by sending a crew into town. By 9:15pm, a crew was in town working by Gaglardi Park, starting what was going to be a very long night. Three contracted crews from Kamloops and Prince George arrived not too long after to help restore power by repairing the 25 reported incident sites across the valley.
Shortly after 10:00pm the power was restored to some areas, but not long after, a transformer blew at Highway 16 and Dorval road. The McBride District Fire Department responded before Hydro to ensure safety for all in the area. MDFD contacted the Ministry of Highways, Emil Anderson and RCMP. They set up blockades until Hydro could arrive on scene.
"This was a high voltage line creating a highly dangerous situation," said Fire Chief Dave Hruby. "We took every precaution to ensure the safety of everyone."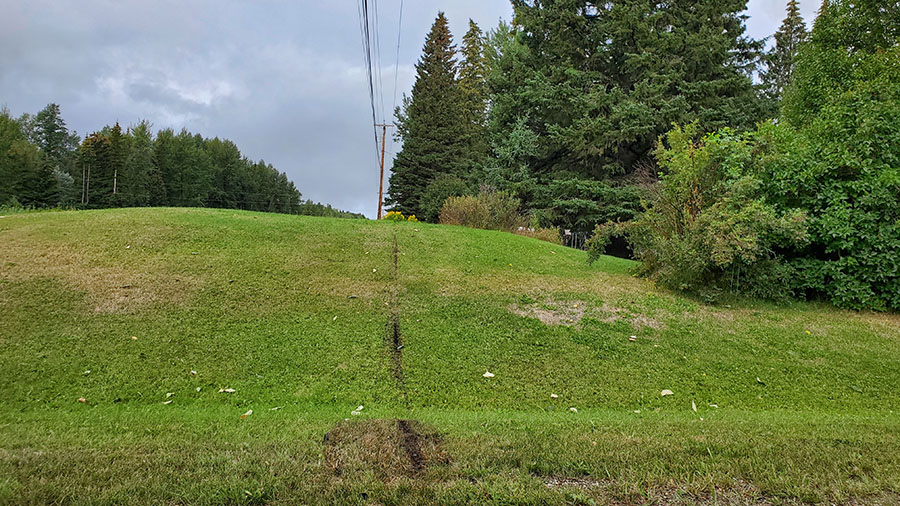 Amy Quam, who could see the pole from her home, posted on Facebook that she could hear the electricity buzzing in the area.
Tammy McNally lives not far from where the transformer blew. She said that the whole area lit up in an eerie green glow.
The McNally's had several trees fall around their property.
"It was a strange feeling to stand here and watch as nine trees fell," said McNally. "We are very fortunate that no structures were hit, and no one was injured."
Their picnic table was lifted several feet as the ground under it contained the root of a blown over tree, and one of their outbuildings is still at risk of being hit as a tree is leaning precariously above it. They plan to buck, stack and leave the wood to dry for future firewood.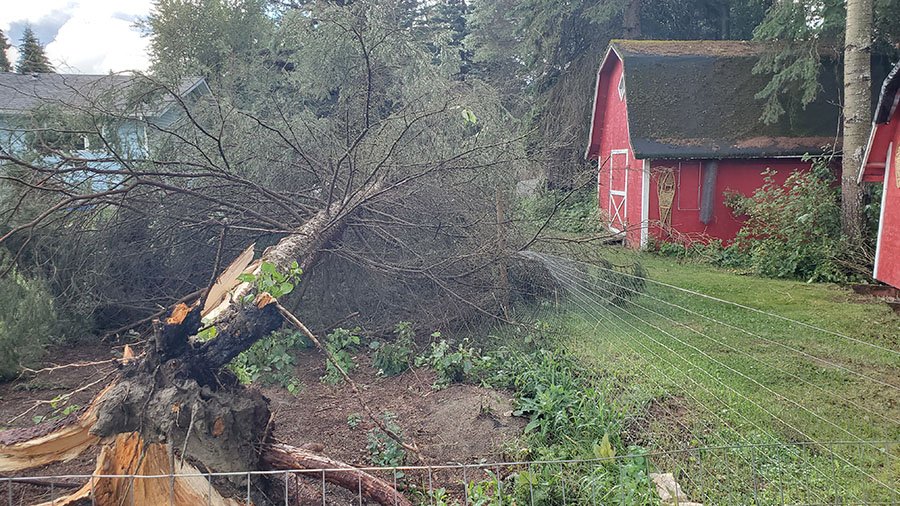 Mike Schaffer, another neighbour, has the only reported direct house hit at this time. A tall but slender evergreen snapped off just above the ground and fell over the back corner of his home. Schaffer, whose home was deeply affected by the flooding of 2020, was in his house at the time, listening to the trees crack and fall around him.
"I thought to myself, not again," said Schaffer. "I am grateful it didn't come through and that no one was hurt. Things could be so much worse."
Two trees between three homes on Dore River road fell just moments after the power went out. The trees pulled all the lines, including Telus, tight and snapped them off the poles. At the time, it didn't seem like fire was a threat, but around three in the morning, one of the homeowners called 911 again after seeing lights flashing outside the house. He saw sparks and flame and could hear the popping and crackling of the wires. The fire department arrived, and waited until the Hydro crew was able to verify that the line had been de energized and grounded. Once confirmation had been received, the fire crew extinguished the flames.
Another pair that had to relocate after the mudslide in 2020, Gary and Mabel Moore also experienced another earth shaking moment. Gary had gone outside to check their newly shingled roof when Mabel discovered a tree had blown down.
"Thankfully it blew away from the house," she said.
On Monday morning Gary was outside working on cleaning up the debris, thinking that he may be able to salvage enough for a few pieces of lumber. He had already been over to his neighbours with his excavator to help pull out and push down a few danger trees, preventing worse damage to buildings.
Tanner and Crystal Ferenczi were out in their yard with their kids clearing up the five large trees that had fallen. One tree had fallen across their mainline, damaging the mast of the power pole. Although the mast is still attached, and they were able to get power when it was restored, they put a call in to Hydro so that the mast can be repaired, and the line to the house tightened up so it no longer hangs too low. They too will eventually use some of the wood for firewood.
Out on Mountainview road, the lines into the Foster home were pulled tight as a tree fell from the edge of their driveway into the trees snagging all the wires on its way down.
At least four other locations around the valley had downed lines due to fallen trees. Two street lights on Main Street also fell victim to the wind, one lost the lamp shade altogether, and the shade on the second managed to hang on, but barely. The sign for The Beaverview RV Park and Campground was reduced to a pile of lumber, and at least one concrete picnic table at LaSalle was destroyed by a falling tree. While most people will have a job of picking up branches, debris and other items around their yards, the common thread throughout the community is a feeling of thankfulness, as things could have been so much worse.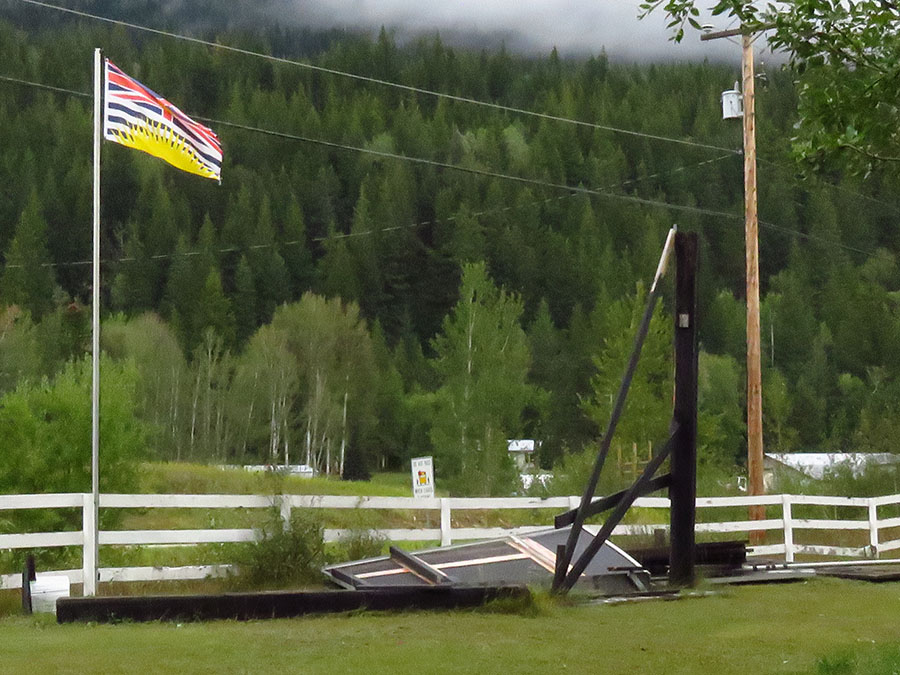 BC Hydro warns people not to approach downed power lines and always assume downed or damaged power lines are live, even if they're not sparking or making any sound.
If you come across a downed or damaged line, follow these steps:
Dial 911 and let them know that a power line has fallen or is damaged. Keep others in the vicinity at least 10 metres (a bus-length) away.
Stay back at least 10 metres (33 feet). That's about the length of a city bus. Why 10m? When a power line touches the ground, the electricity will flow through the ground over a wide area – think of it like ripples in a pool of water. The voltage in the ground is very high at the point of electrical contact but as you move farther away, the voltage will drop off. At around 10 metres, the voltage drops to zero. This is why we recommend staying at least this length away.
It's also important to keep away from any object that is in contact with a power line. This is because the electricity in the line will always seek a path to the ground. This path might include a tree, a vehicle or a fence. These objects then become energized. If you touch the energized line or object, the electricity can flow through your body.